Frida Kahlo is a famous artist who is known for her surrealist paintings and self-portraits. One of the self-portraits she made was based on an unforgettable experience that she had when she was 18 years old. What exactly is the story behind her striking piece titled "Broken Column"? Why does it touch the hearts of those who gaze upon it?
The meaning of the painting "Broken Column" by Frida Kahlo is it shows her pain and suffering in the most direct and horrifying way. It was made to show her constant pain, which was caused by the surgeries she needed after her bus accident when she was 18 years old.
Frida Kahlo often uses the visual symbolism of physical pain in her art as a way to show how much she was hurting physically and emotionally. Read on to learn more about the background and history of "Broken Column" and what symbolisms and themes there are to unravel in this piece of art.
Background: Why Frida Kahlo Painted the Broken Column
When she was only 18 years old, on September 17, 1925, Frida was involved in a serious bus accident. The accident caused her to break her spinal column. She also broke a collarbone, her ribs, and her pelvis. She also caused 11 fractures in her right leg. The accident also dislocated and crushed her right foot. If all of that was not enough, her shoulder was also dislocated. [1] This episode in her life started a long-term relationship with suffering and pain.
At the age of six, Frida caught polio and had to spend several months in bed. In 1953, she had to have her lower right leg and foot cut off because of gangrene [2]. This is why the brace in her painting is there because, in real life, she also had to wear a brace.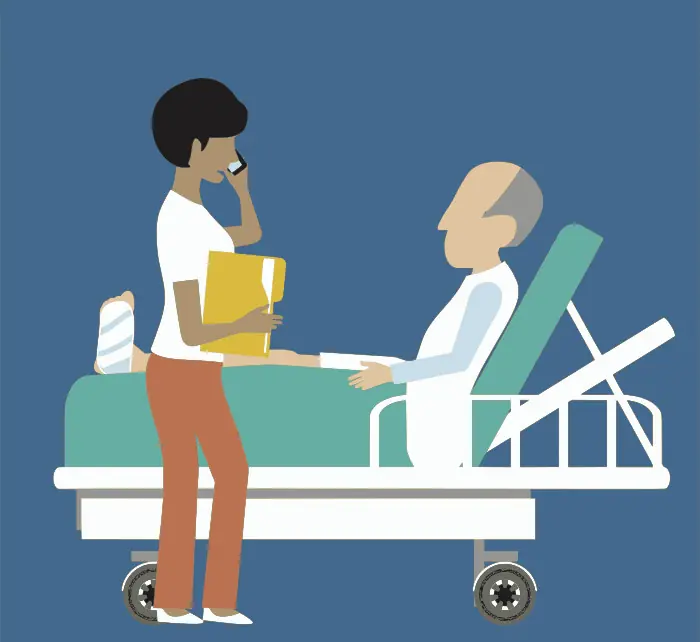 Scholars who have looked at Kahlo's self-portraits say that she tried to be free by reclaiming her body, which she did by looking at herself in the mirror. This introspective self-portrait testifies to a painful period in Kahlo's life. [3] It reflects a deep sadness that went beyond the chronic pain brought on by a debilitating accident in early adulthood.
Kahlo underwent numerous surgeries, one of which was on her spinal column. She was forced to stay in bed after the procedure and wore a titanium corset to deal with the excruciating pain she was in. Shortly after the procedure, the artist is seen in the painting "Broken Column" standing in the center of a shattered, desolate environment. Her exposed spine is broken in several places, which draws attention to the fact that her torso is held together by metal belts covered with fabric. [4]
What Does "Broken Column" Represent and Symbolize?
This self-portrait, like many of Kahlo's other art, represents her being in a lot of pain due to her health issues. Suffering from polio, surviving disability, and being amputated all tie in with her suffering.
In the painting, the column that is depicted appears worn down and about to collapse. It could turn into a pile of rubble at any moment. Her broken and cracked spinal column was replaced with an ionic column, which is the thinnest and most delicate of the Greek order of columns.
These columns were associated with the female, and we see them most often built for goddesses, which are usually depicted as strong, fertile females, the total opposite of Kahlo's state.
As if broken by an earthquake, the landscape is dry and cracked, imitating her body. In the face of adversity that is depicted by nails piercing Frida's flesh, Kahlo is standing strong and stoic. The landscape in the painting is shown as a barren and fractured landscape. This symbolizes her loss and her infertility after the accident. This same theme can be seen in many of her works.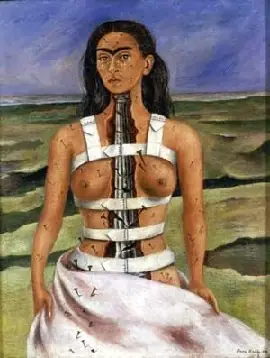 In Frida Kahlo's painting "Broken Column," her spinal surgery and brace for her back, broken spine, and polio are symbolized through her body being split in half and propped up by a large metal column. The column is symbolic of the physical and emotional struggles she faced from her injuries, and her body is broken yet still standing.
Nails are also piercing Kahlo in the painting reminiscent of Jesus Christ who was nailed to the cross. Additionally, it is also reminiscent of her other artwork titled "The Wounded Deer" where she painted herself as a young deer fatally wounded by arrows. It's interesting to note that the nails piercing her are significantly placed on her right leg and there are none on her left leg. It might be signifying the pain she feels from her amputated right leg.
Kahlo is naked in the painting apart from her back brace. Her self-portrait gives the disabled audience a way to perceive themselves portrayed as yearning and desirable by creating a space in the arts where disability, humanity, and sexuality can coexist despite being broken. [5]
Where is the Broken Column Located?
The Broken Column hangs in the Museo Dolores Olmedo in Mexico City, an art museum in the south of Mexico City based on the collection of the Mexican businesswoman Dolores Olmedo. The five-building complex has up to 170 paintings, including 145 by Diego Rivera, Frida Kahlo's husband, and 25 by Frida Kahlo herself.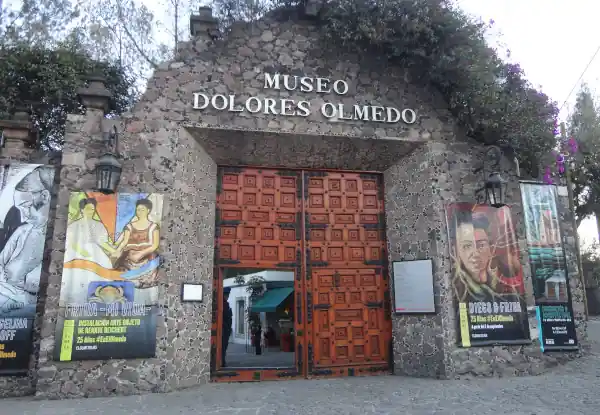 Dolores Olmedo was a businesswoman who was a flamboyant socialite and a lifelong friend of Diego Rivera. She was intensely jealous of Frida and hated her artwork, but she did buy a large portion of it after Kahlo's death as a personal favor of Diego. [6]
The entire museum, along with the painting, is set to be relocated to Chapultepec in the year 2024. The "Chapultepec Forest," or "Bosque de Chapultepec" in Mexico City, is one of the largest city parks in Mexico. It is just over 686 hectares in size (1,695 acres).
How Did Frida Kahlo Paint the Broken Column?
Here are some quick facts about the "Broken Column:"
It is an oil painting on masonite
It is a self-portrait painted in the surrealist style.
It is said to fall under the Naïve art movement.
Its dimensions are 13 by 17 inches.
Get Notified When We Publish Similar Articles
Frequently Asked Questions (FAQs)
References