Frida Kahlo was a talented artist, political activist, and feminist icon. Her works are a fantastic set to draw on for your artwork or style transfers. Kahlo's self-portraits are famous for stirring controversy about her unibrow and mustache. Why are these features in her paintings?
Frida Kahlo had a unibrow as part of her personal and her artistic style. She kept a unibrow and a mustache as a statement on male and female beauty standards. She was encouraged by her husband Diego Rivera, and also depicted herself with these features in her paintings.
Statements like the mustache and unibrow are integral to the political messaging of Frida Kahlo's paintings. Kahlo had a long and detailed career of creating symbolic and meaningful paintings.
| | |
| --- | --- |
| Name | Magdalena Carmen Frida Kahlo y Calderon |
| Date of Birth | 6 July, 1907 |
| Date of Death | 13 July, 1954 |
| Location | Mexico City |
| Movements | Surrealism, Magic Realism, Naive |
| Artistic Focus | Paintings |
| Favorite Medium | Oil on Canvas |
Kahlo: Brief Background
On July 6th 1907, Magdalena Carmen Frida Kahlo y Calderon was born. She would become one of the most prevalent female figures in the history of art. At a young age, Kahlo displayed great skill in painting and soon became the short-term apprentice of Fernando Fernandez, who was a printmaker and family friend. [3]
Kahlo did not see art as a viable career choice growing up, but it all changed after a tragic accident. At the age of 18, Kahlo was in a severe bus accident, which led to her being bed-bound in a body cast for three months.
I am not sick. I am broken. But I am happy to be alive as long as I can paint.

Frida Kahlo [2]
During this terrible time, Kahlo became one of the most recognizable artists in the world. The ramifications of her accident would leave her in chronic pain for the rest of her life. After receiving 32 operations throughout her life, Kahlo passed away on July 13th, 1954 at the age of 47.
Want to know all the details of Frida's tragic accident? Check out my deep dive on what happened in Frida Kahlo's bus accident.
Across the span of her life, Kahlo was only able to produce just under 200 paintings. Within the collection of masterpieces, 55 of her paintings were self-portraits. Let's examine the style of these paintings.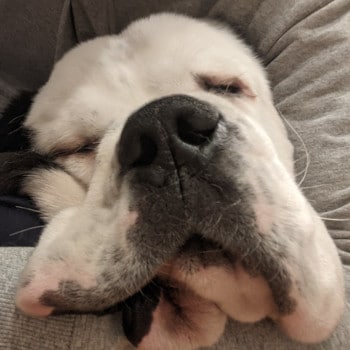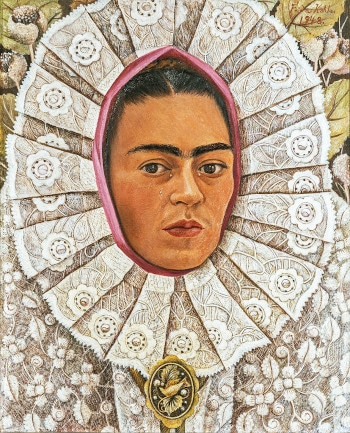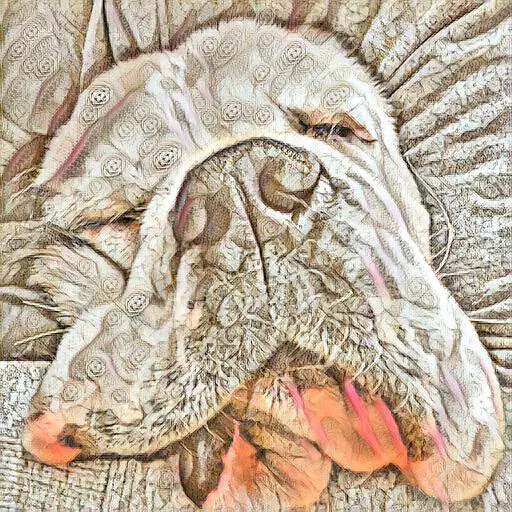 What Is Kahlo's Style?
Frida Kahlo's style is complex and has symbolic and surrealist elements. In this section, I'll break down all the critical components.
As a general rule, Frida Kahlo's painting style involved fusing surrealist elements with inspiration and symbolism from Mexican folk art. Her artwork mixed the themes of pain and death with political and philosophical questions about life in a post-colonial world.
Often Frida channeled her pain into her paintings. One of these tragedies included her amputation. Check out my post detailing how her amputation affected her art.
Since there are many dimensions to Kahlo's style, I'll highlight some of the major ones: [5]
She fused real elements (like a deer) and surreal ones (like her own head on the deer) in her paintings.
Depicted personal subjects like herself, her husband, her family members, etc.
Symbolism and color schemes were inspired by Mexican folk art.
Techniques and materials were inspired by her favorite European painters.
Political and philosophical messages in her paintings.
Colors are symbolic.
Motivated by personal pain and tragedy in her life.
Frida Kahlo's artistic style is unmatched. Kahlo had spent the majority of her art career shunning the stereotypical artistic labels that others tried to place on her. Many categorize Kahlo's art as surrealism. However, Kahlo continually denied belonging to the group.
They thought I was a Surrealist, but I wasn't. I never painted dreams. I painted my own reality.

Frida Kahlo [2]
Frida Kahlo took inspiration from a large variety of artistic genres and art techniques. She carved out a unique position within the art world. The key influences on Kahlo's artistic style include Mexican folk art, surrealism, realism, and symbolism.
An important component that motivates a painting's style is the techniques used to create it. The next section will cover Kahlo's creative techniques.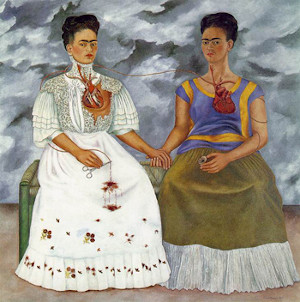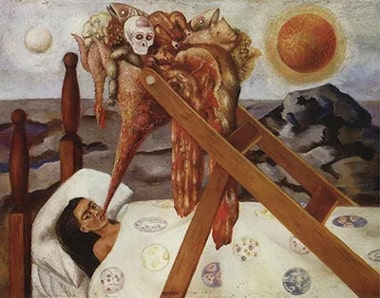 Frida Kahlo's Painting Techniques
As a result of her devastating bus accident, Kahlo lived in isolation for months. During this time she taught herself how to paint. Kahlo learned the techniques and methods of popular European artists to master painting.
In total, Frida Kahlo used a variety of brushstrokes in her paintings. Kahlo used large brushes to paint highlights and color, medium brush sizes for textures and skin tones, and small brushes for detailed areas like faces and eyes. Kahlo layered short, linear strokes to create texture.
Some main aspects of her technique are:
Pattern: Often repeated shapes and lines to create patterns and make backgrounds appear busy.
Form: Combined shadows, highlights, and shading to outline the form of objects.
Perspective: Often single point at eye level so the viewer examines the subject of the painting.
Now that I covered Kahlo's painting techniques and their influence on her artwork, the next important contribution to Kahlo's style is her choice of materials.
| # | PAINTING NAME | YEAR PAINTED | LOCATION |
| --- | --- | --- | --- |
| 1 | My Grandparents, My Parents, and I | 1936 | Museum of Modern Art, New York, United States |
| 2 | Self-Portrait on the Borderline Between Mexico and the United States | 1932 | Philadelphia Museum of Art, Philadelphia, United States |
| 3 | Self Portrait with Cropped Hair | 1940 | Museum of Modern Art, New York, United States |
| 4 | The Two Fridas | 1939 | Museo de Arte Moderno, Mexico City, Mexico |
| 5 | Self-Portrait with Thorn Necklace and Hummingbird | 1940 | Harry Ransom Center, Austin, Texas, United States |
| 6 | The Broken Column | 1944 | Museo Dolores Olmedo, Mexico City, Mexico |
| 7 | The Wounded Deer | 1946 | Private Collection |
| 8 | Frieda and Diego Rivera | 1931 | San Francisco Museum of Modern Art, San Francisco, United States |
| 9 | Without Hope | 1945 | Museo Dolores Olmedo, Mexico City, Mexico |
| 10 | The Suicide of Dorothy Hale | 1938 | Phoenix Art Museum, Phoenix, Arizona, United States |
What Materials Did Kahlo Use?
The materials and mediums an artist uses affect the style of their paintings in a major way. Kahlo had a favorite medium which she used often.
As a whole, Frida Kahlo used oil paints to create her masterpieces. Oil paints were popular among artists in her time and she used oil paints in a highly controlled manner. Kahlo blended tone and color while the oil paints slowly dried. She used this ability to create texture and detail.
Frida Kahlo had multiple artistic influences throughout her career, but she was loyal and singular-minded when it came to the materials she used. Oil was considered to be the most popular material, especially among European and Western artists and critics. [4]
Kahlo's most popular pieces were all oil paintings, including:
The Two Fridas, 1939
Self-Portrait With Thorn Necklace And Hummingbird, 1940
Without Hope, 1945
Frida Kahlo's medium choice is a famous factor in her painting style. Another critical component of both her style and her messages involves the colors in her paintings and self-portraits. [6]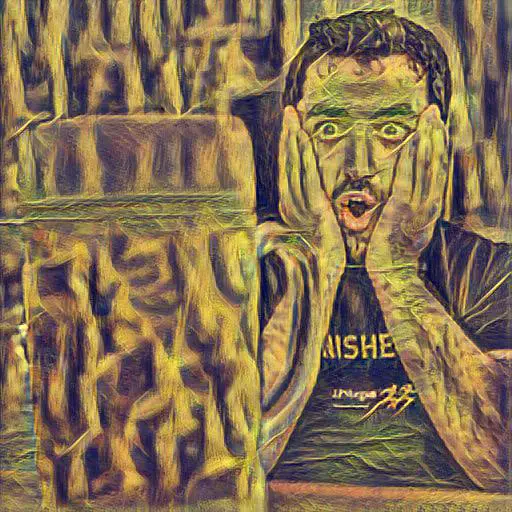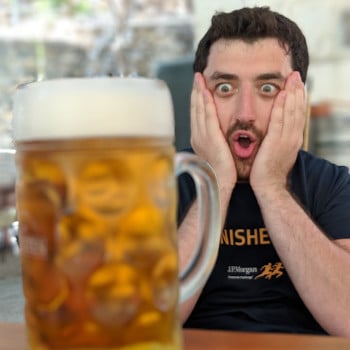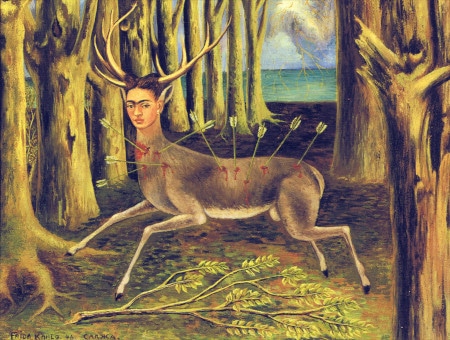 What Colors Did Kahlo Use?
The last section of my style guide is dedicated to discussing the color palettes that Kahlo preferred to use while painting. How did she choose colors and which were her favorite?
There are a variety of colors Frida Kahlo often used, including red, green, yellow, orange, and blue. As an artist, Kahlo associated colors with different meanings and mapped the meanings in her journals. Kahlo also favored bright colors and palates inspired by native Mexican folk art.
Kahlo was an incredibly proud Mexican and loved her home country. The color palette that Kahlo naturally gravitated towards tended to be bright and colorful. In her final years, she was also increasingly active in the political sphere in Mexico.
A little while ago, not much more than a few days ago, I was a child who went about in a world of colors, of hard and tangible forms. Everything was mysterious and something was hidden, guessing what it was a game for me. If you knew how terrible it is to know suddenly, as if a bolt of lightning elucidated the earth. Now I live in a painful planet, transparent as ice; but it is as if I had learned everything at once in seconds.

Frida Kahlo [1]
Kahlo also deliberately selected colors in her paintings to symbolize specific emotions in the viewer of the art piece. She connected emotion, symbolism, and color for many years in her artwork.
For example, red and blood were often associated. [7]
There are extracts from her journal, 'The Diary of Frida Kahlo: An Intimate Self-Portrait', that contain information where Kahlo had labeled specific color pencils relating to certain emotions.
A few examples include:
"Yellow: madness, sickness, fear, part of the sun, happiness"
"Black: nothing is black. Really nothing."
"Green: good warm light."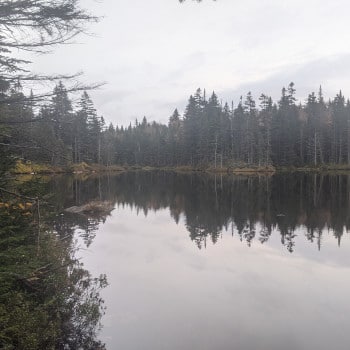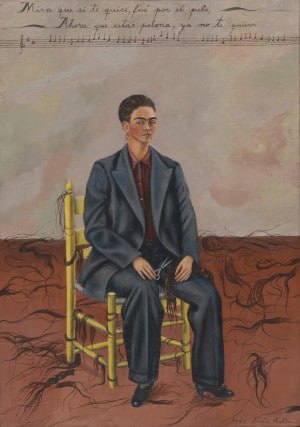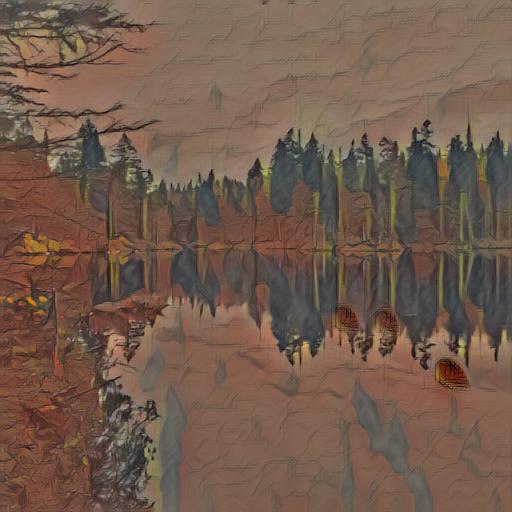 Kahlo's style is compelling and a classic one to draw on for your artwork or for style transfers. Looking for inspiration from other styles?
Want to learn more about how style transfers and neural networks work?
Frida Final Thoughts
Kahlo was an individual that lived her life in almost constant agony, so she was perhaps more attuned to feelings and emotions than most others. Her use of color and subject matter allowed her to express her emotions to the world, even though she lived her life in relative isolation.
Frida Kahlo did not have the largest collection of completed works and she did not have many exhibitions during her lifetime. However, Kahlo is one of the most celebrated, successful, and admired artists of all time.
Want to know more about style transfers and digital art? Read my post about Style Transfers, Neural Networks, and Digital Art.
If you want to check out other posts related to style transfers, check out the Style Transfers category.
Want to learn more about neural networks in python? Check out my tutorial about implementing Bayesian Neural Networks using the most popular python libraries.
Get Notified When We Publish Similar Articles
References