Wonderdraft was released in 2018 and since has taken over the fantasy mapmaking community. Regardless of your experience in map creation, this article will give you everything you need to know about Wonderdraft, from features and drawbacks to controls and system requirements.
Wonderdraft is a fantasy mapmaker, which is used by artists, gamemasters, and writers to create customized maps of imaginary worlds. You can generate desired landmasses and put various assets like trees, mountains, and houses anywhere you want on the map.
If you're looking to create a fantasy map, Wonderdraft is a great option to consider. In this article, I'll give you a complete guide to this mapmaking software, and review everything you need to know to start making maps today.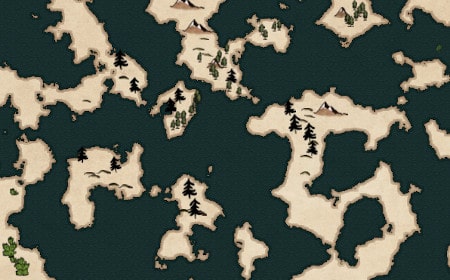 What Can You Do With Wonderdraft?
Wonderdraft's menu has 7 tabs that are full of options and tools that will help you fully execute your vision and transform your ideas into a fantasy map everyone can look at. The menu includes tabs for:
Water
Land
Paths
Symbols
Regions
Labels
Overlay
I'm going to review the most important Wonderdraft features and tools in every category and explain how and when to use them to create your ideal fantasy map.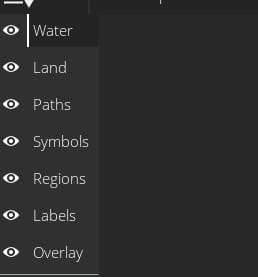 Water
When you create a new map on Wonderdraft, it's automatically filled with water.
You can customize its appearance in multiple ways:
Water Texture
Coastal FX Distance
Vignette Strength
Coastline Style
Coastline Color
Freshwater Color
Freshwater Outline Color
Color Grading
However, there are many more water-related options and tools you can use to customize your map:
Water Appearance

This tab lets you change the color of the saltwater that's surrounding your landmass by controlling the "Hue", "Saturation", "Value", and "Stain Amount" sliders.
River Brush
Using this tool you can select a starting point of your river by left-clicking with your mouse. Every left click will put an invisible point through which the river flows. For example, if you need a straight river, simply left-click at the start and at the end of your desired river, and Wonderdraft will automatically generate it.
However, if you want your river to have turns and twists, you'll have to left-click for each bend.

River brush has "Width", "Roughness", and "Meander Distance" sliders that you can adjust to change the appearance of your river. Finally, to change the color, you need to adjust the "Freshwater Color" option found in the general "Water" settings.
Lake Brush
Using this tool you can add lakes to your map. There are "Roughness" and "Detail" sliders that you can adjust as needed, but the most important thing to know is that you can cycle through the available lake shapes by scrolling up or down with your mouse wheel while holding down "Shift".

Just play around until you find the perfect settings that will result in the lake you want. To change the color, adjust the "Freshwater Color" option found in the general "Water" settings.
Freshwater Brush

As the name suggests, this tool lets you draw with freshwater. You can adjust "Brush Size" and "Roughness" sliders to change the appearance of the brush. This tool is useful if you want to create unique bodies of water that are impossible to achieve using the lake and river brushes.
Land
The land is the very basis of most fantasy maps, and Wonderdraft offers 5 tools to help you shape it. You can either select to randomly generate landmasses and then do some touch-up work for customization, or you can start from 0 and draw the landmass yourself. Here are the tools you're going to use:
Landmass Wizard
This tool allows you to generate landmasses with a single click. It's great if you don't already have an idea of what lands your map will consist of. Before generating a landmass, you can adjust the "Roughness", "Detail", and "Water Level" sliders, which will impact its appearance. You can select out of several patterns:
"Archipelago" – generates a chain of islands
"Atoll" – generates a ring-shaped island with a lagoon
"Continent" – generates a big landmass
"Uniform" – generates a part of a bigger landmass
"World" – generates several continents and islands

You can keep on generating land masses until you find something you're happy to build on. This is one of my favorite Wonderdraft features! It's fun to generate a bunch of worlds to have an inspiring place to start map making.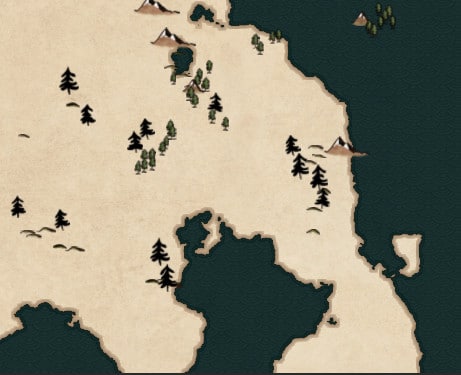 Landmass Brush

If you already know how your map should look, you can use a Landmass Brush, that allows you to draw a landmass yourself. You can control the size of a brush, so you can use a small brush to get detailed, or use a bigger one to quickly draw huge areas.
Raise Landmass
It's used to draw jagged coastlines which adds to the detail and increases the realism of your map. You can control the brush size and the roughness.

Lower Landmass

It's like the "Raise Landmass" tool but reversed. It creates a coastline by expanding the water and reducing the landmass. You can also use this tool to create bodies of water within your landmass.
Ground Color Brush
This tool allows you to color your landmasses, portraying different regions and climates of your fantasy world.
You can select your desired color and click on the "Fill" button to color an entire landmass all at once.

However, you can also use a brush and fill in the color yourself. There are "Brush Size" and "Brush Opacity" sliders and several brush types that can help you achieve great-looking gradients and smooth transitions between different colors of the land.
Paths
There's only one tool to establish the roads and paths of your fantasy world, but it's heavily customizable. There are many different path styles you can select from, and it wouldn't be Wonderdraft if it didn't allow you to select color, and adjust the "Width" and "Roughness" sliders to achieve the look you want.

Symbols
This is where the wonder of Wondercraft truly shows. It comes with endless assets you can use to customize your map and expand on your fantasy world.
The three tools are:
Symbols Tool
This tool allows you to add as much character, personality, and detail to your map as you wish. Using it you can place various assets onto your map and control their size, color, and textures. Wonderdraft already comes preloaded with tons of assets, but you can also download more or make them themselves.

"Symbols Tool" incorporates pretty much every possible asset that isn't a mountain or a tree. Here, you will find houses, castles, farms, mines, waterfalls, bridges, monsters, city indicators, and much much more.
Mountain Brush
This tool is used specifically to add mountains and terrain to your map. You can either place every mountain individually or just left-click and drag to create a mountain range.
You can adjust the distance between mountains by controlling the "Placement Rate" and "Placement Density" sliders. Finally, you can control the size of each individual mountain with the "Symbol Scale" slider.

Most mountain assets are transparent and take the color of the landmass they're standing on. However, there is also a small selection of colored mountains that carry their own color.
Tree Brush

This tool is identical to the "Mountain Brush", except it uses tree assets. You can use it to put a single tree or create large forests spanning the entire continent.
Regions
Many fantasy worlds include several factions, states, or countries inhabiting the same world. To depict it on your map, you can use the "Regions Tool", which allows you to draw borders and apply a colored overlay to make it stand out.

You can select any color and adjust the border width and overlay opacity. It's a really great feature that makes your map tell more about its underlying lore.
Labels
If you've built an entire fantasy world full of grand kingdoms, impenetrable forests, and deep lakes, chances are you want to name them. Wonderdraft took it into consideration and included a couple of tools so you don't have to use other software tools after finishing your map. They are:
Labels Tool
It allows you to create text graphics and put them anywhere on the map. There are several presets you can choose from, each loading unique settings that are the most fitting for what you want to label, including "City", "Town", "Water", and "Terrain". 

However, Wonderdraft gives you complete control over how labels look. You can select the font, adjust its size, color, outline width, and even add some curvature to it. In case you aren't in the mood for labeling your map, you can use "Name Generator", which gives you random names depending on the category you've chosen.
Box Tool
The second tool is primarily used for creating a map legend that can display some lore of your fantasy world by defining the features found on the map. This tool creates a framed area, and you have to use the "Labels Tool" to add text and the "Symbols Tool" to add any indicators.

There are several box styles you can choose from, each coming with a unique border. Finally, you can adjust the tint of the box, so it aesthetically matches your map.
Overlay
The final option on the Wonderdraft menu is the "Overlay" tab. Here you will find tools that can add certain elements to your map and make it more aesthetically pleasing. They are as follows:
Grid Tool

Most real-life maps have grids that help to find different locations on the map However, fantasy maps can also benefit from a grid overlay, as it can give some realism to the map. You can choose out of several patterns, and adjust the size, width, and color of the grid lines.
Frame Tool
If you want to frame your beautiful map, this is the tool to use. You can select one of many styles available, and adjust its size and tint.

Scale Creator

Finally, if you want to add even more realism to your map, you can add a bar scale, which acts as a reference for the size of the world your map is depicting. You can fully customize the scale, from its size and position to color and segment number.
Wonderdraft Features
As we've just seen, Wonderdraft is a powerful tool that allows you to control nearly every single aspect of mapmaking. If you want to add your own assets and symbols to Wonderdraft, check out my complete guide for adding custom assets!
However, it's also full of additional features that will aid your map creation process:
9 Map Themes (Adventure, Black & White, Eastward, Feudal, Imagination, Paper, Pastel, Terra, Worn)
Wind Rose Generator
Separate Layers
Measuring Tool
Maximum Map Resolution of 8192×8192
Automatic Path and River Bending
Automatic Coastlines
Map Overlay Tracing
Randomize Water Patterns
Ability to Invert Land and Sea
Zooming and Panning
I feel like Wonderdraft is much easier to use than just about anything else on the market. It has tools that raise terrain and add roughness to a coastline, which puts it above Inkarnate which Wonderdraft most closely resembles.

ChickenDragon123 on the DnD Subreddit [1]
Pros of Wonderdraft
If you're still not sold on Wonderdraft, here's a list of pros:
Easy To Use
Offers Customization and Generation
One-time purchase
Works Offline
Frequent Updates
Strong Community
Free User-Made Assets
Compatible with Drawing Tablets and Surface Pro
Cons of Wonderdraft
As good as Wonderdraft is, it has a couple of drawbacks, that could make you choose another tool for fantasy mapmaking:
No Free Trial
Isn't Fully Customizable
Exporting Maps Could Take a Long Time Depending on the Map
Community
Wonderdraft has a strong and active online community that is full of mapmaking enthusiasts that can help you in your mapmaking journey. At the time of writing, the r/wonderdraft subreddit has over 57,000 subscribers, and the Wonderdraft Discord group hosts nearly 25,000 users.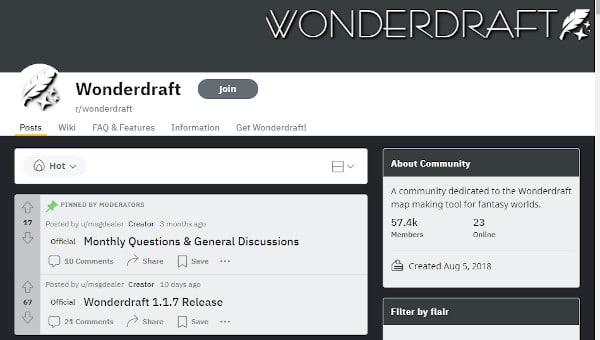 It's rare to find such a huge community around a mapmaking tool. Finally, the developer of Wonderdraft is personally involved in these Reddit and Discord communities and often shares his progress of future updates.
System Requirements
Most digital mapmaking tools are resource-demanding, especially if you're working with higher resolutions. If you're using an older computer you're likely to experience lag and low FPS, which will make your mapmaking process much less enjoyable. However, Wonderdraft is well optimized and runs great even on older machines.
Official Wonderdraft System Requirements
If your system is comparable to "Minimum", it means that Wonderdraft will be stable and run adequately. However, sometimes your frame rate might drop to 30 FPS, which won't hinder your workflow, but might be slightly unpleasant to experience. To match these requirements, you don't need a dedicated graphics processor, and Intel Core 2 Duo was released in 2006. As a result, even older office PCs can run Wonderdraft without much trouble.
| Requirements | Minimum | Recommended | Maximum |
| --- | --- | --- | --- |
| GPU | Intel HD Graphics 5000 | NVIDIA GTX 760 | NVIDIA GTX 1080 |
| Driver | OpenGL ES 3 | OpenGL ES 3 | OpenGL ES 3 |
| CPU | Intel Core 2 Duo | Intel i3 2.5GHz | Intel i5 3GHz |
| RAM | 2 GB | 4 GB | 6GB |
Wonderdraft System Requirements [2]
Recommended requirements will guarantee a smooth workflow experience with frame rate always staying at or close to 60 FPS. The NVIDIA GTX 760 was released in 2013. CPUs that are comparable to the Intel i3 2.5GHz are a decade old. As a result, most PCs and laptops purchased in the last 5 years should match these requirements.
Finally, "maximum" system requirements are the ceiling of Wonderdraft, meaning any upgrade over these won't result in improved performance.  It requires a dedicated GPU, and 6GB of ram, which means most older computers won't match these requirements. However, most budget gaming PCs today would reach this benchmark without much trouble.
Wonderdraft User Hotkey Guide
Wonderdraft is very straightforward and easy to use. Even users with no prior experience in similar software can navigate it and quickly turn their imagination into a fantasy map. However, there are many shortcuts that can help you to create maps faster and more efficiently.
General Shortcuts
| Hotkey | Result |
| --- | --- |
| Ctrl + N | New Map |
| Ctrl + S | Save Map |
| Ctrl + Shift + S | Save As |
| Ctrl + I | Import Heightmap |
| Ctrl + E | Export Map |
| Ctrl + O | Open Map |
| Ctrl + 0 | Fit Map to Screen |
| Ctrl + Z | Undo |
| Ctrl + Y | Redo |
Wonderdraft General Shortcuts
Tool Hotkeys
| Key | Tool |
| --- | --- |
| F | Map Effects Panel |
| D | Tool Contextual Panel |
| C | Raise Landmass |
| V | Lower Landmass |
| Z | Paint Landmass |
| X | Erase Landmass |
| R | River Tool |
| G | Ground Color Brush |
| M | Mountain Tool |
| T | Tree Tool |
| P | Path Tool |
| W | Water Appearance |
| L | Label Tool |
| S | Symbol Tool |
| E | Symbol Eraser |
Wonderdraft Tool Selection Hotkeys
Map Creation
| Shortcut | Result |
| --- | --- |
| Spacebar + Mouse 1 | Pan |
| Ctrl + Mouse Wheel | Zoom |
| Shift + Mouse Wheel | Cycle River, Paths and Symbols |
| Alt + Mouse 1 | Reverse Raise/Lower |
| [ or Mouse Wheel Down | Decrease Brush Size |
| ] or Mouse Wheel Up | Increase Brush Size |
| Alt | Mirror Symbol |
| Comma (,) and Period (.) | Rotate Symbol |
| Slash (/) | Reset Symbol Rotation |
| Mouse Wheel | Change Symbol/Brush Size |
| Alt + Mouse 1 | Rotate Label |
| Shift + Alt + Mouse 1 | Snap Rotate Label |
| Ctrl + Mouse 1 | Move Label |
| ESC | Deselect Object |
| Delete or Backspace | Delete Selection |
Wonderdraft Map Creation Hotkeys
Fractal Landscapes
One aspect of making terrain look realistic involves having the terrain follow a self-similar fractal pattern.
These patters exist in nature and some of the earliest research into computer generated landscapes used fractal generation techniques to produce mountains and continents. I covered this in my complete list of Mandelbrot's books if you want to read more about it!
I also discussed this technique for generating realistic looking rivers and geography. You can read more about it in my post about the history of fractals.
By making your Wonderdraft fantasy maps self-similar and fractal in appearance, you can make them look more realistic and immersive to the viewer.
While it's not what one might traditionally think of when you think of computer generated art, fantasy maps are definitely artwork! You can read more about fractals in art by checking out my deep dive on the subject.
Frequently Asked Questions (FAQ)
Wonderdraft Final Thoughts
Wonderdraft is one of the best fantasy mapmaking tools out there. Whether you want to expand on your upcoming fantasy novel or enhance your future Dungeons & Dragons campaign, Wonderdraft will make it possible.
If you are looking for fun map assets beyond the default installation, check out my post covering some of the most popular Wonderdraft asset packs! Don't know how to install custom assets yet? Check out my complete guide walking through how to install Wonderdraft assets!
Get Notified When We Publish Similar Articles
References
ChickenDragon123. "In case you haven't heard about Wonderdraft. This is my review." Reddit, 3 Oct. 2018, www.reddit.com/r/DnD/comments/9l652p/in_case_you_havent_heard_about_wonderdraft_this/ Accessed 16 May. 2022.
msgdealer. "System Requirements / Will My Computer Run Wonderdraft?" Reddit, 25 Sep. 2018, www.reddit.com/r/wonderdraft/comments/9inh7i/system_requirements_will_my_computer_run/ Accessed 16 May. 2022.
Wonderdraft. (n.d.). Retrieved May 16, 2022, from https://www.wonderdraft.net/