Pablo Picasso is one of the most influential artists of the mid-20th century. With over 50,000 works in painting, sculpture, writing, and ceramics produced in his lifetime, he has painted over 30 self-portraits throughout his career. Many wonder about the last one. What are the interesting details about his last self-portrait? What was Picassos's last self portrait?
Picasso's last self-portrait is titled, "Self-Portrait Facing Death." Painted less than a year before his death in 1973, it depicts Picasso's bulging eyes and aged aura, with deep lines across his face. Several critics believe it represents Picasso's fear of his inevitable death.
In his later years, Pablo Picasso continued to create many works of art, self-portraits among them. Read on to learn more about the story behind Picasso's last self-portrait.
Background: Picasso's Later Life
Pablo Picasso was known for adapting various styles in his art pieces and copying some other artists' techniques and doing his own twists on them. One example is Henri Mattise's use of Fauvism. But Picasso also conceived his own techniques. Along with Georges Braque, he invented the Cubism art movement. He also pioneered art collages and heavily contributed to the Surrealism movement.
Classic examples of this style can be seen in Weeping Woman and Portrait of Dora Maar. Explore Picasso's famous portraits of his lover Dora Maar and how they inspire and captivate audiences.
One of Picasso's notable works is a public sculpture and now a known landmark in Downtown Chicago, namely "Chicago Picasso." This sculpture, completed on August 15, 1967, represents Picasso's use of Cubism with its distorted form and is drawn from other experimental art, as seen in his construction of the sculpture's steel wing-like structures for its hair. [1] It now stands at 60 feet in Daley Plaza in the Chicago Loop. Picasso refused a payment offer of $100,000 and only wanted to give the sculpture as a gift.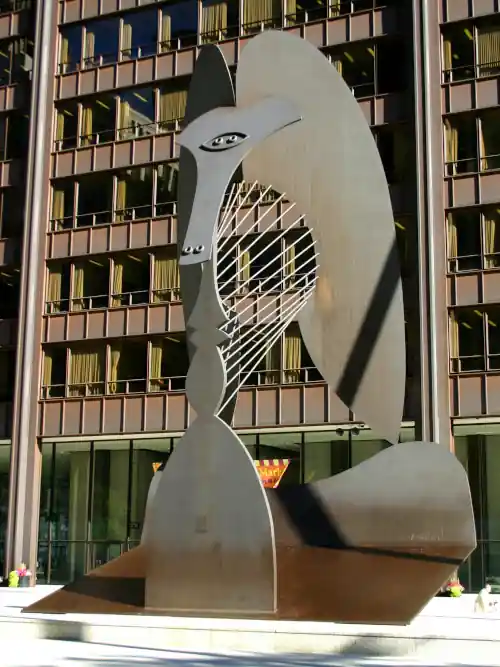 The years before Picasso's death were extremely prolific-Picasso created many works and self-portraits incorporating a mixture of all the art styles he adapted. He was so passionate about his craft that he was still painting his last masterpiece at 3 am, just hours before his passing. [2]
On the night of April 8, 1973, Picasso and his wife Roque had invited friends over to their home in Mougins for dinner. However, Picasso suffered pulmonary edema and heart failure, ending his influential artistic journey at age 91. [3]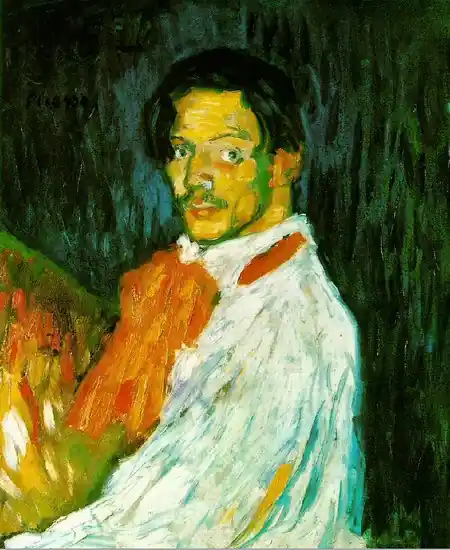 Picasso drew Self-Portrait Facing Death only months before his passing on June 30, 1972, a seeming presentiment of his death. Over the years, Picasso created and collected a series of self-portraits, some of which are:
"Yo, Picasso" (1901)
"Self-Portrait with Palette" (1906)
"Seated Man Self-Portrait" (1965)
"Self Portrait" (1966)
Picasso's Seated Man Self Portrait was a line drawing. Interested in exploring others? Travel the world of Picasso's drawings in my post covering his animal artwork or ponder his iconic drawing portrait of composer Igor Stravinsky.
What Are the Symbols and Themes of Picasso's "Self-Portrait Facing Death"?
Picasso's Self-Portrait Facing Death depicted his conflict with morality—that one day, he will face death. Pierre Daix, a good friend of Picasso's, went to see him while he was working on the self-portrait. He remembered that Picasso held his canvas up to his face. Three months after Daix's first visit, he observed that while doing the piece, Picasso did not blink, as though he were already facing death as a good Spaniard would.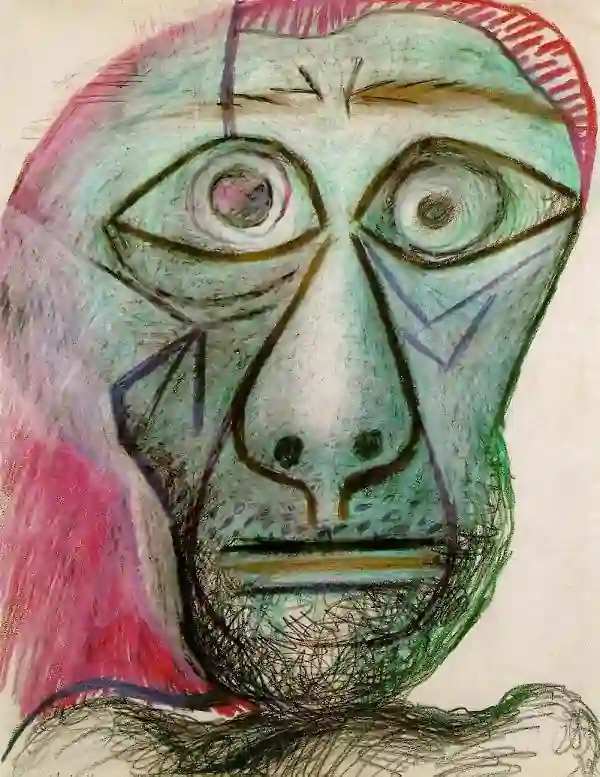 The self-portrait was drawn on paper using a pencil and crayons. It was done over several months using blue colors, somber and reminiscent of his Blue Period. His face was emphasized with deep, creasing lines, and a tone of red framed his head.
Learn about the evolution of Picasso's Blue Period and why The Blue Nude helped to develop Picasso's styles he used throughout his whole art career.
The portrait is staring at you and looks serious. In it, Picasso is not showing extreme emotions; he was neither smiling nor crying, but just serious and staring far off. His face was disfigured, which showed both how tired he was at 91 and his cubist style of art. [4]
Where is Self-Portrait Facing Death Located?
The Fuji Television Co Gallery had a Pablo Picasso exhibit for many years. In the collection was Picasso's "Self-Portrait Facing Death." The Gallery is a museum located in Tokyo, Japan.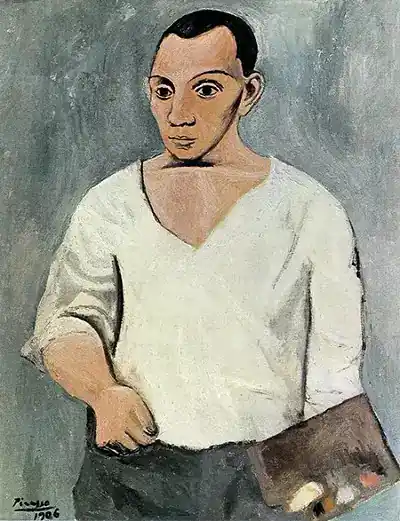 Upon his death, many of Picasso's art pieces were donated to the Picasso Museum in Paris. There is now an organization that authenticates official Picasso artwork. Discover Picasso's signature policy and the process the Picasso Administration verifies paintings and drawings.
Get Notified When We Publish Similar Articles
Frequently Asked Questions (FAQs)
References