Pablo Picasso, a Spanish artist who lived in France and painted Ma Jolie, was one of the best and most influential artists of the 20th century. He was a painter, sculptor, printmaker, ceramicist, and stage designer. "Ma Jolie" was painted by Pablo Picasso in 1911, when he was trying out the new style of art called "cubism." What is the story that led Picasso to paint Ma Jolie? How did the painting change the artistic scene and Picasso's career?
Picasso painted Ma Jolie showing his lover Marcelle Humbert. Picasso's nickname Ma Jolie means "My Pretty." The painting hints at a musical connection and Picasso's romantic love for Humbert. It influenced Cubist artistic style moving away from traditional form and toward new shapes and elements.
Picasso's Cubist masterpiece Ma Jolie remains iconic even today. Read on to learn about Ma Jolie's love past, symbolism, themes, and how this painting started a new creative movement.
Ma Jolie Background
Ma Jolie is the title of two paintings, one painted in 1911 and the other in 1914. Pablo Picasso painted both of these, but they vastly differ.
The 1911 "Ma Jolie" is a painting of Picasso's lover, Eva Gouel. Her name was Marcelle Humbert, but Picasso referred to her as Ma Jolie.[1] "Ma Jolie" was inspired by a well-known song often played at a music club in Paris that Picasso liked visiting. If you look closely, the painting shows a woman holding a guitar.
The artwork from 1914 depicts a variety of everyday items. It is one of Picasso's Cubist paintings. Picasso drew attention to how the shapes of ordinary things, like a pipe, a glass, an ace of clubs, a guitar, and a bottle, overlapped but didn't fit together.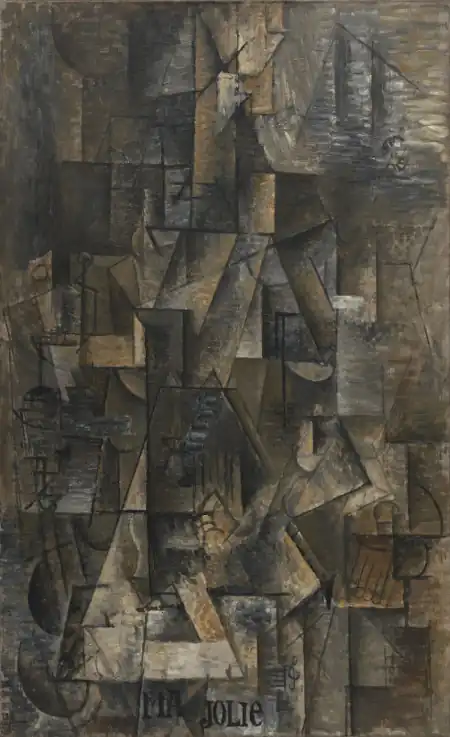 Picasso created this Cubist painting and wrote "Ma Jolie" in black lettering at the bottom. [2] The figure of a woman was loosely constructed in this painting using the distinctive shifting planes of Analytic Cubism.
At the time, "Ma Jolie" was a popular song played in Paris music halls that Picasso often visited. It was the chorus of a song Picasso liked. The artist was drawn in by its fixed poetic form, which became his inspiration.
Ma Jolie was Picasso's nickname for Gouel, who was Picasso's muse. It translates to "My Pretty." One could interpret the painting as a loving ode to her beauty.
During the same year he painted Ma Jolie, Picasso was arrested in connection to the theft of the Mona Lisa. Discover the thrilling story of Picasso's connection to one of history's most famous art heists.
What Are the Symbols and Themes of Ma Jolie?
"Ma Jolie" follows the traditional painting format—a female model holding a musical instrument. In addition, the subject is placed at the center of the piece. In "Ma Jolie," the female figure can be seen in the elements' curved shapes.
Ma Jolie is a Cubist portrait of Gouel holding a musical instrument. Ma Jolie has a loosely constructed figure with shifting planes, typically seen in Analytic Cubism.
Picasso placed a treble clef and a music staff near the big stenciled letters "Ma Jolie." By doing this, Picasso hints at the musical association of the painting. This composition examines music using Picasso's distinctive Cubist aesthetic. Picasso used a triangle in the lower center to show that the woman was playing guitar. He used six vertical lines in the lower center to show the guitar strings.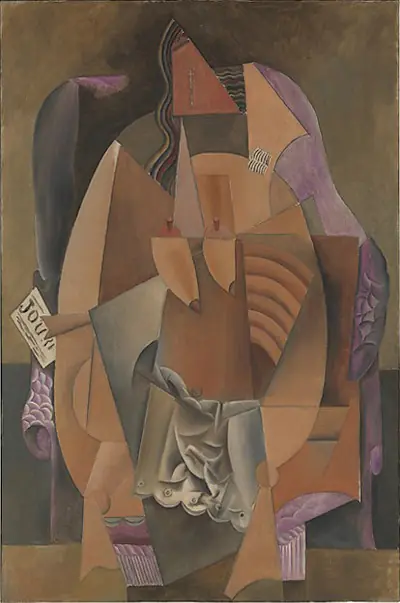 Under the strings, you can see four fingers and an elbow that sticks out to the right. In the upper half, a network of flat, semi transparent planes makes it hard to see what might be a floating smile. [2] Aside from the smile, some people can also see fingers, an arm, a head, and a torso.
Brown and tan are the traditional colors for paintings of models with instruments. The painting had a brown, beige, gray, and white pattern, again a typical example of the Cubist style. To create the illusion of tight space, every 2-D shape is given a tilting and lighting direction thanks to the color patterns that help construct the values on the geometric shapes. [3]
"I love her very much and will write this in my paintings." Picasso wrote this in a letter. He wrote "Ma Jolie" on the bottom of this painting and in twelve other paintings. In "Ma Jolie," Picasso talks about his lover in private and the chorus of a popular song in public.
Picasso painted cubist portraits of other lovers. Explore the famous Picasso Portrait of Dora Maar in my deep dive on the cubist painting.
Where is Ma Jolie Located?
The 1911 version of Ma Jolie refers to the Cubist painting of Picasso's lover, Gouel, which can be seen in New York City at the Museum of Modern Art. Lillie Plummer Bliss donated it.
The 1914 version of Ma Jolie is in the Indianapolis Museum of Art in Indianapolis, Indiana, United States. This second version is a different painting wherein the subjects are items from everyday life.
The Museum of Modern Art has multiple other famous Picasso paintings. Discover Picasso's Three Musicians and its hidden meanings and symbolism.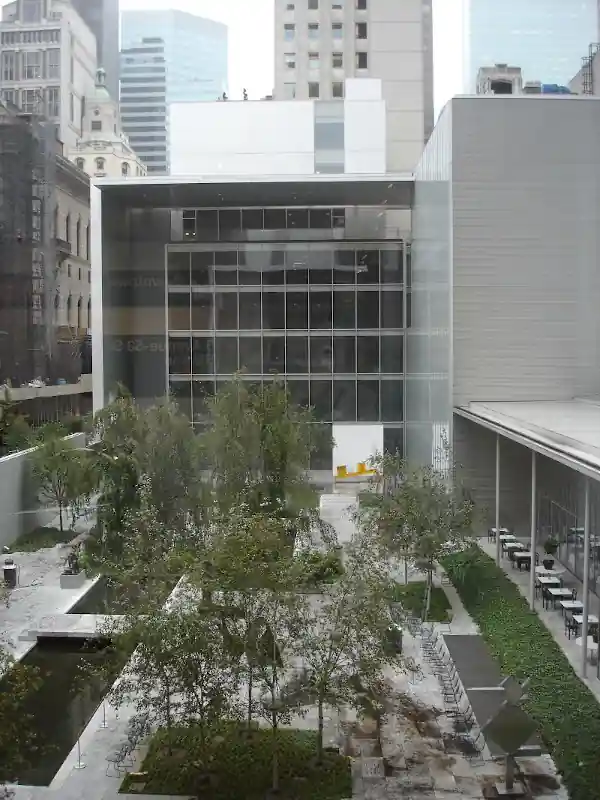 Lillie P. Bliss, one of the most important modern art collectors in New York City, donated her collection, including Ma Jolie, to the Museum of Modern Art. She was one of MoMA's first champions and one of its three women founders. [4]
Aside from collecting the works of Picasso, she also collected the works of:
Paul Cezanne

Pierre-Auguste Renoir

Edgar Degas

Georges Seurat

Odilon Redon

and many others
Bliss came from a family of textile merchants, and her father was the US Secretary of the Interior. Lizzie Plummer Bliss's family was well-known, so she learned about business and politics at a young age. As she grew older, she became more interested in modern art.
Picasso's cubism was preceded by his Rose Period and his Blue Period. Learn the sorrow and struggle that fueled the masterpieces of Picasso's Blue Period.
Get Notified When We Publish Similar Articles
Frequently Asked Questions (FAQs)
References