Frida Kahlo is one of the most famous and important Latin American painters of the 20th century. Her self-portraits and surrealist artworks are well-known across the globe. Today, her art continues to inspire and enthrall people despite the fact that she passed away in 1954. But how did Frida Kahlo pass away? And what are the circumstances surrounding her death?
Frida Kahlo died from a pulmonary embolism on July 13, 1954, at the age of 47. It was determined just before she passed away that she had been dealing with a pulmonary embolism brought on by a blood clot in her lungs.
In her twenties, a bus accident left Frida with a fractured spinal column and pelvis, and as a result, she battled chronic pain her whole life until her death. Read on to learn more about Frida Kahlo's background, medical issues, death, and legacy.
Background and Medical Issues
Frida Kahlo was diagnosed with polio when she was just 6 years old. [1] This illness made her right leg grow shorter and thinner than her left leg. Even though she had to deal with her disability every day, she was determined to use it as inspiration for her art.
When Kahlo was 18, she was in a terrible bus crash that changed the course of her life. She broke her spinal column, collarbone, ribs, pelvis, and right leg, among other things, in the accident. She was also pierced in the stomach and uterus by a metal handrail. [2] The accident put her in bed for months, and it took her more than a year to get better.
If you want to read all about Frida Kahlo's bus accident, read my other article covering the tragic event.
Over the course of her life, Kahlo had more than 30 surgeries and went through many other medical procedures in the hopes of restoring her to where she had been before the accident. She had spinal taps, plaster casts, and metal braces as part of her medical care and to help treat her chronic pain. I cover all the details in my post about why Frida needed a back brace.
In 1953, Kahlo's right leg, which had been weak from polio since she was a child, was diagnosed with gangrene. To stop the infection from spreading, the doctors said that the leg should be amputated. On November 13, 1953, it was, and she was given a prosthetic leg.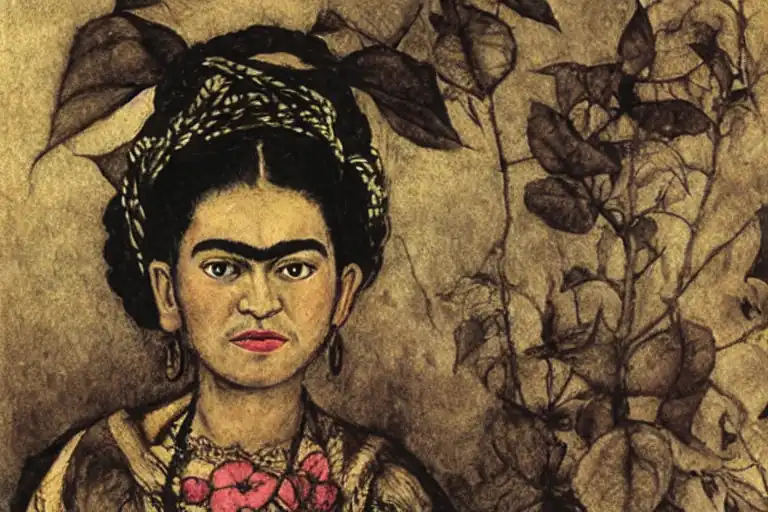 Kahlo began wearing a prosthetic leg to replace the one she had lost after having her leg amputated. It had a leather strap and a flesh-colored lower leg. To hide her prosthetic leg, Kahlo made a red lace-up boot that fits over it. [3]
Want to know more about Frida's struggle losing her leg? Read more in my article about Frida Kahlo's unfortunate amputation.
In April 1953, Kahlo had her first solo exhibition at the Galera Arte Contemporaneo in Mexico. Even though Kahlo was told by her doctors to stay in bed and not go to the opening, she ordered her four-poster bed moved from her house to the gallery. She came to the exhibition in an ambulance, which surprised the guests. She was carried on a stretcher to the bed, where she stayed for the rest of the party.
Love Frida's unique and original art style? Check out my Frida Kahlo Style Guide where I cover all the details of her artwork.
Kahlo had many surgeries, and one of them was on her spinal column. After the surgery, she had to stay confined to bed and wear a metal corset, which helped ease the constant, severe pain she was in. [4] Because of her health problems, Kahlo spent a lot of time inside her home. Kahlo used this time to think, make art, and learn more about herself. During the time she was confined at home, she used her bed as her main place to work.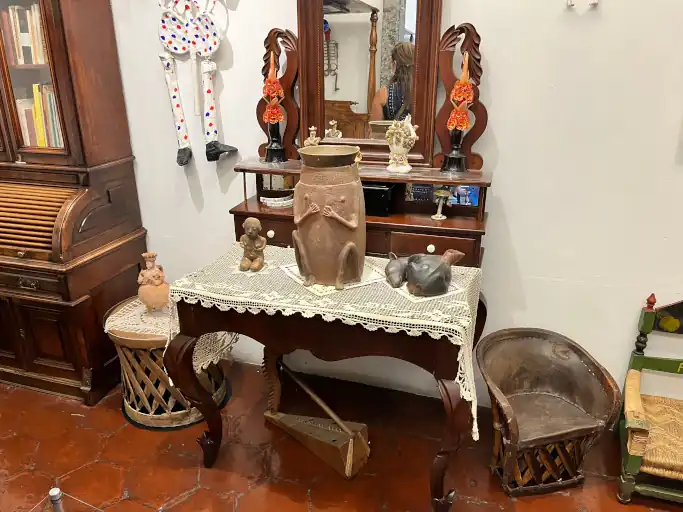 Frida Kahlo's ashes are stored in an urn on her dressing table inside of her home in Mexico City. The home is now a museum that you can visit. I thought it was a fun experience on my trip to Mexico City in 2022. The museum contains much of her artwork and the neighborhood is lively containing an open air market that is only a few blocks away walking. I highly recommend the experience for anyone thinking of going!
The urn itself is a pre-hispanic frog design in a reference to her husband Diego Rivera. He liked to call himself the 'frog-toad' according to the display in the museum. The museum also contains many of Frida Kahlo's dresses which were promoted by a Vogue Magazine cover in 2012. Check out my post about Frida's relationship with Vogue.
What Are the Circumstances Surrounding Frida Kahlo's Death?
Frida Kahlo spent most of the last nine months of her life in bed. She had a number of health problems, including paralysis and constant pain. She died of a pulmonary embolism on July 13, 1954, just a few days after her 47th birthday. On her death certificate, it said that the embolism was caused by a pulmonary embolism, which is a blockage in the lung. This was likely caused by her poor health and weak condition.
There are a few theories about how Kahlo died apart from her official cause of death, one of which is that she might have committed suicide by overdosing on painkillers. The nurse who kept track of Kahlo's drug use by counting her painkillers said that Kahlo had taken too many drugs the night she died. Kahlo was told to take no more than seven pills, but she took eleven. Because there was no official autopsy performed, her death will always be a bit of a mystery.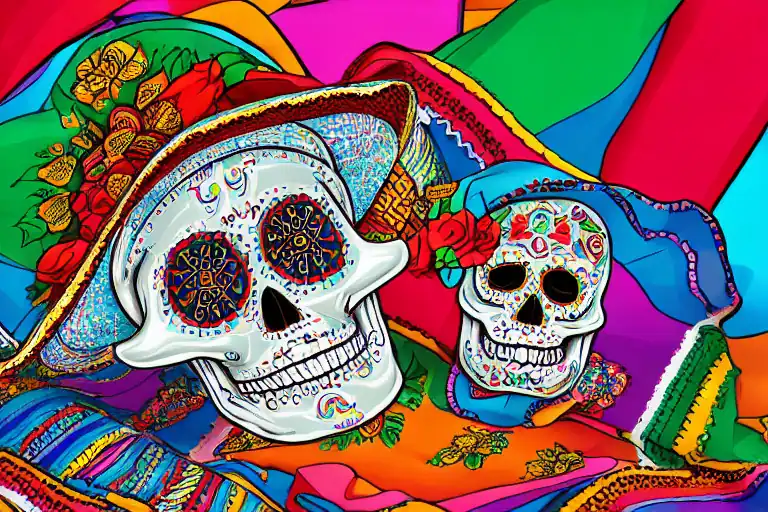 Frida Kahlo's last painting before her death, "Viva La Vida, Watermelons," is a vibrant, colorful painting that celebrates life. In the painting, different kinds of watermelons, some of which have been cut open to show the fruits inside, are arranged in a circle. Every watermelon has a different color on it, making a rainbow of colors. The painting's name is a play on the Spanish phrase "Viva la vida," which means "long live life."
If you want to know more about Frida Kahlo's last painting including symbolism and meaning, check out my post about Viva La Vida: Watermelons.
Frida Kahlo tragically passed away at the age of 47 on the morning of July 13th, 1954, just a few days after her 47th birthday. On the night of July 12, she was discovered dead on her bed by her nurse after suffering from a high fever and severe pain.
"I joyfully await the exit, and I hope never to return."

Frida Kahlo
Her last written words were reportedly, "I joyfully await the exit, and I hope never to return." These words, found in her diary, were accompanied by drawings of skeletons and angels. Her last drawing is that of a black angel, which some biographers claim is a caricature of the Angel of Death.
Frida Kahlo and her husband, Diego Rivera, went to a protest against the CIA invasion of Guatemala. People say that going to the demonstration made her illness worse since it was her last public appearance before she died.
Kahlo's body was taken to the Palacio de Bellas Artes on the evening of July 13, where it was put on display under a Communist flag. The next day, it was taken to the Panteón Civil de Dolores, where family and friends held a simple funeral service. [5] There were hundreds of her admirers outside. Kahlo was cremated in accordance with her wishes.
Want to know more about Frida Kahlo's political activism? Check out my post discussing communism and Frida's political beliefs.
What is "Fridamania" and Frida Kahlo's Legacy Today?
Kahlo's popularity increased after her death to the point where the name "Fridamania" was created to characterize the phenomenon. She also leaves behind the following legacies after her death:
Being an inspiration to many feminists and activists due to her involvement in fighting for women's rights and civil rights during her lifetime and her artworks featuring strong, independent women
Serving as an inspiration to the disabled and pained to keep fighting and making art despite living a difficult life of hardship and struggle
Channeling her pain in life even after death through her symbolic and surrealist artworks
Becoming a National symbol of Mexico, with her works being declared part of their natural cultural heritage and a source of pride for all Mexicans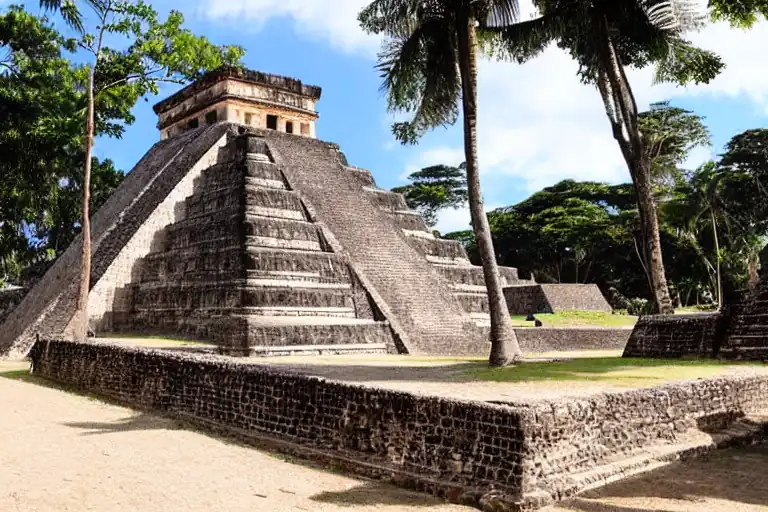 Frequently Asked Questions (FAQs)
Get Notified When We Publish Similar Articles
References
"Frida, a Biography of Frida Kahlo : Herrera, Hayden : Free Download, Borrow, and Streaming." Internet Archive, New York : Perennial, 1 Jan. 1970, https://archive.org/details/frida00hayd/page/n11/mode/2up.
Maranzani, Barbara. "How a Horrific Bus Accident Changed Frida Kahlo's Life." Biography.com, A&E Networks Television, 2 Nov. 2022, https://www.biography.com/news/frida-kahlo-bus-accident.
Student, Public History. "'My Disability Does Not Define Me': The Prosthetic Leg of Frida Kahlo." Public History Amsterdam, 14 Oct. 2021, https://publichistory.humanities.uva.nl/blog/my-disability-does-not-define-me-the-prosthetic-leg-of-frida-kahlo/.
"Exploring Frida Kahlo's Relationship with Her Body – Google Arts & Culture." Google, Google, https://artsandculture.google.com/story/exploring-frida-kahlo%E2%80%99s-relationship-with-her-body/VQUBSfueb1ivJQ?hl=en.
Zamora, Martha (1990). Frida Kahlo: The Brush of Anguish. Chronicle Books. ISBN 978-0-87701-746-2.