Pablo Picasso, a renowned artist of the 20th century, had a very long career and tried many different styles of art. His body of work is often divided into periods, some of the most commonly known were: the Blue Period, the Rose Period, Cubism, Neoclassicism, and Surrealism. What gave rise to Pablo Picasso's well-known Blue Period? Furthermore, how did he transition from this period to the next?
Picasso had a Blue Period because he was overwhelmed with misery and mourning at a young age. During this period, he primarily used shades of blue and blue-green in sad and melancholy paintings. The Blue Period of Picasso happened between 1901 and 1904.
The paintings from Picasso's Blue Period often depict themes of loneliness, isolation, and the human condition. His works from this period are considered some of his most emotionally charged and powerful pieces and are highly valued for their poignant commentary on the human experience. Read on to learn more fascinating details about Picasso's Blue Period and the famous pieces it produced.
The Blue Period Background
Picasso had a 'Blue Period' for a few years, painting only somber images. It was characterized by his use of blue and blue-green hues in his paintings and drawings. During this time, Picasso saw a lot of poverty, homelessness, and death on the streets of Barcelona and Paris. These things had a big impact on him, and you can see them in his works from this time.
The period began after Picasso's close friend, Charles Casagemas, committed suicide. Casagemas was a Spanish artist and close friend of Pablo Picasso; he was a member of the group of artists and intellectuals that gathered at the café "Els Quatre Gats" in Barcelona, which was a center for avant-garde culture and artistic experimentation. [1] Unfortunately, Casagemas had a difficult life and struggled with depression.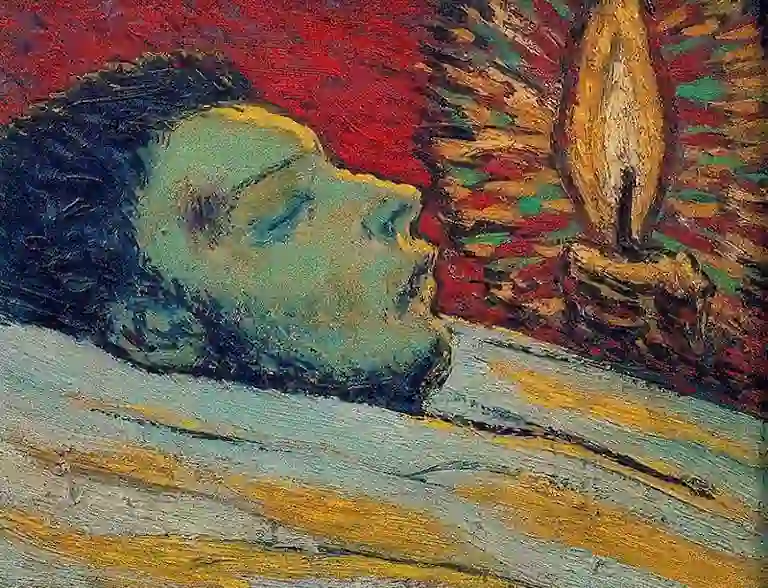 Casagemas was impotent and in love with one of the art models, Laure Gargallo, known as Germaine. Due to his impotence, Casagemas was unable to consummate their relationship. This resulted in a number of suicide attempts, coupled with his spiral into despair and mood swings.
When Germaine did not agree to marry Casagemas, he attempted to shoot her and then shot himself. It happened in L'Hippodrome Café in Paris, France on February 17, 1901. He shot himself in the right temple. The main things that led to his tragic death were his struggles with depression and emotional turmoil.
Picasso was devastated by the loss of his friend and roommate. He composed two huge paintings and a number of minor studies later in 1901 in response to Casagemas's suicide. Picasso's struggle with mortality, human misery, and anguish persisted over the next decades of his art as he tried to rid himself of the pain and shame he felt in the wake of Carles Casagemas' passing. Many of his Blue Period pieces address these concerns both explicitly and allegorically. [2]
What Are Some of the Most Famous Paintings From the Blue Period?
'La mort de Casagemas' or 'The Death of Casagemas' is among Picasso's first paintings of his Blue Period. It was a memorial dedicated to his friend, Casagemas, and features a body's lifeless head marked by a fatal wound and a candle by its side.
Picasso reinterprets the same artwork in 'Casagemas in His Coffin.' The difference it has from 'The Death of Casegamas' is that evidently, in the former, the candle is out and the painting has more dominant blue colors. It has a darker feel without the flame from the candle.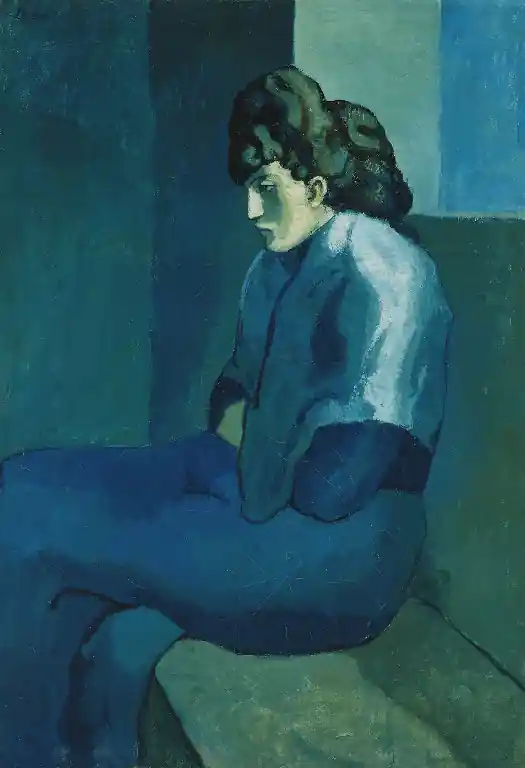 'Femme Assise' or 'Melancholy' Woman is another one of the paintings that came out of the Blue Period. A woman is depicted as an imprisoned figure in this painting, gazing sadly at the wall of her cell. Picasso's portrayal of his own sentiments of anguish, grief, and isolation can be seen in the way the woman in Melancholy Woman has folded in on herself so many times that appears she has lost her limbs and legs. [3]
Want to step into the mind of Picasso? Read my other post and explore the significance of The Blue Nude in relation to his other Blue Period paintings.
Picasso also created the intriguingly ambiguous artwork 'La Soupe' or 'The Soup' while residing in Barcelona. It is an old painting that shows a mother's love for her child as she tenderly offers a steaming bowl of soup. The older woman's poverty seems to be physically weighing her down. She stands with her arms extended, offering a bowl of soup. Picasso combines the fundamental need for sustenance with acts of selflessness and generosity. [4]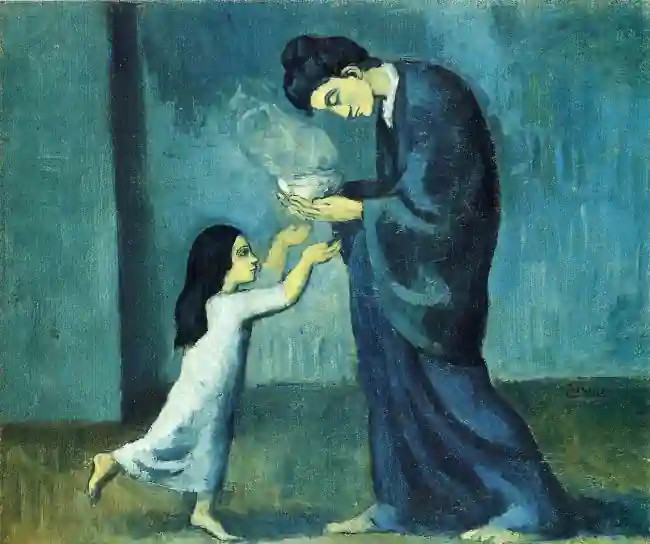 "Woman with a Helmet of Hair" is another Blue Period painting by Picasso created in 1904. The painting depicts a woman with a large, distinctive head of hair that is reminiscent of a helmet. It was created with gouache on tan wood pulp board.
'The Old Guitarist' is another famous painting of the Blue Period. Picasso was extremely poor during this time and can barely afford to buy food. He also doesn't have money to buy new canvases that he sometimes painted over his old paintings. In 'The Old Guitarist,' an old man with worn-out clothes plays the guitar. Here, Picasso combined all major themes he was fond of portraying during his Blue Period – poverty, loneliness, despair, and old age. [5]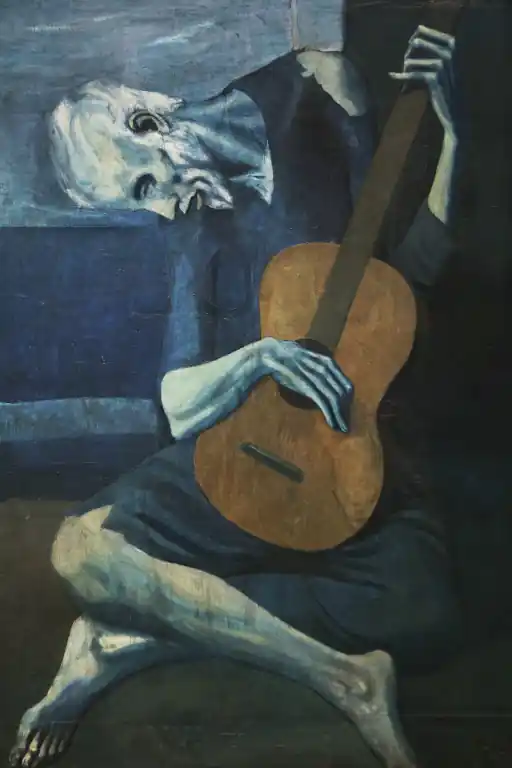 Next, 'La Vie' or 'The Life,' made in 1903, is frequently cited as Picasso's finest work from his Blue Period. It is made up of various pairs, including a pair of lovers—a young man and a young woman. The second pair is a mother and a child, which echoes the theme of motherhood. The third couple is clutching each other over a lonely figure. When all the pieces of art are put together, they show how different it is to feel sad with and without emotional support. [6]
Lastly, 'The Tragedy,' painted in 1903, shows how Picasso frequently left visual cues on the surfaces of his paintings to suggest a concealed image beneath. [7] It depicts a man, a mother, and a child cuddled up next to each other on a beach. Their dejected expressions tell of the tragedy, but it's unclear whether they are experiencing it or lamenting it.
Want to explore the heartbreaking painting The Tragedy? Don't miss my post about the iconic painting and its significance among the other Blue Period paintings.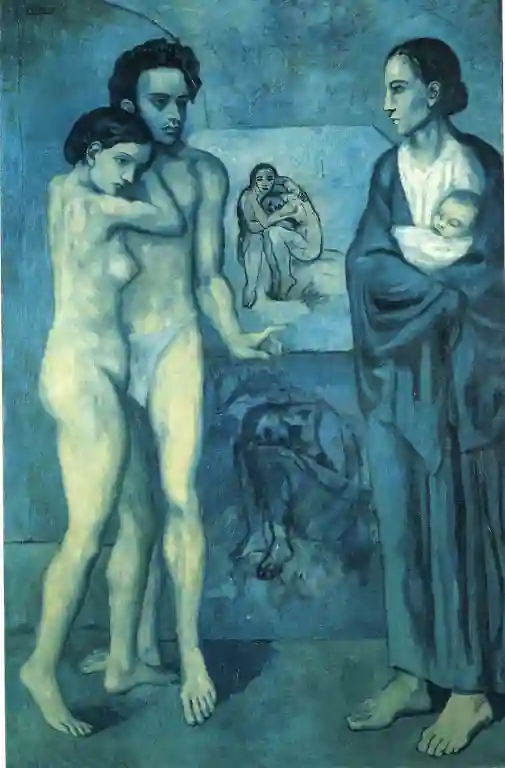 Looking through Picasso's works during the Blue Period, his paintings depicted society's outcasts – drunks, poor beggars, elderly, frail, and blind people. For centuries, it was normal to see blind beggars on the streets of Spain. Picasso may have felt a connection to the tragic people he portrayed. [8] Picasso likely made these paintings to make people more aware of the social and economic differences of his time and to bring attention to the struggles of people who were left out and forgotten.
If you want to know more about the phases of Picasso's art career, read my blog post exploring the artistic genius of Picasso and his major art periods, with a special focus on the distinctive styles and techniques he used to create his masterpieces.
How Did Picasso Transition From His Blue Period to His Rose Period?
Around 1904, Picasso slowly started making paintings with pink and other warmer colors. Picasso's works from his Rose Period still display resignation but not melancholy. [9] Picasso's transition from realistic art to a more expressive and abstract use of color and line is best seen in his Rose Period, which also marks the start of his creative wealth and notoriety. As a result, these magnificent prints in the Rose Period's design are some of Picasso's most seductive and valuable prints available today.
With some of the most valuable paintings in the art world, jump in as my post takes a deep dive into Picasso's financial legacy, from his humble beginnings to his astronomical net worth at the end of his life.
There is no defined event that ended the Blue Period; Picasso just started making fewer blue-colored paintings. He stopped using blue as the main color in his paintings and started using other colors instead. This led to the next step in his artistic development.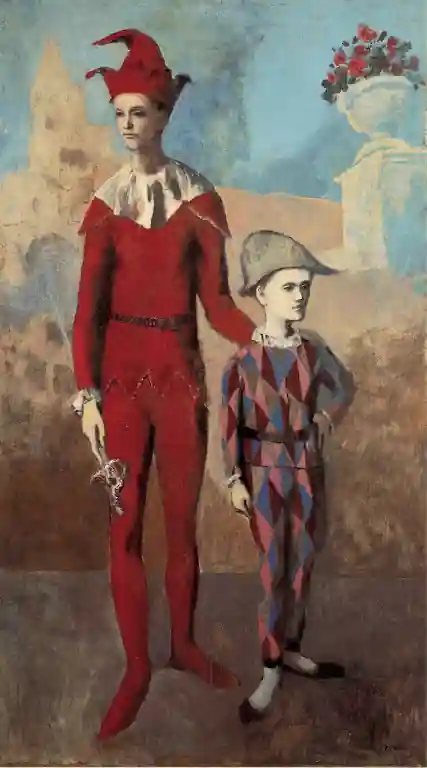 However, artists at the time didn't distinguish his Rose period as separate. The terms "Blue Period" and "Rose Period" were not used by Picasso or his contemporaries during the time these styles were developed. Instead, art historians and critics used these terms to describe the different stages of Picasso's artistic development.
Want to learn all about Picasso's quest for innovation? Check out my study of his styles, techniques, and the influences that shaped them.
Clowns, acrobats, and other circus performers are among the cheery subjects Picasso painted during his Rose Period. They are portrayed in vibrant, upbeat shades of red, orange, pink, and earth tones. The spectator detects a trace of listlessness and desire in the figures' vacant glances despite the warm color scheme.
The Rose Period is also the time when new romantic relationships for Picasso started. Picasso first met Fernande Olivier, a French artist and model, who would later become his mistress, in 1904. Picasso's artistic transformation from the chilly, dismal tone of the Blue Period to the heightened warmth and lightness of the Rose Period is owed in part to Olivier.
Want to discover how Picasso's personal life also influenced the creation of Le Reve? Read my complete coverage of one of Picasso's most valuable paintings and its place in the art world.
Get Notified When We Publish Similar Articles
Frequently Asked Questions (FAQs)
References