One of the best-known Mexican artists is Frida Kahlo. Her bright and unique style, which was largely shaped by what she went through in life, is loved by many worldwide. Although Frida Kahlo's life was tragically cut short by her death, her legacy endures because of her enduring artistic creations. But what was Frida Kahlo's last painting? And what does it portray?
Frida Kahlo's last painting before her death is titled "Viva La Vida, Watermelons." It is a vibrant, colorful painting that celebrates life. In the painting, different kinds of watermelons, some of which have been cut open to show the fruits inside, are arranged in a circle. Every watermelon has a different color on it, making a rainbow of colors.
The painting's name is a play on the Spanish phrase "Viva la vida," which means "long live life."  Read on to learn more about Frida Kahlo's story and her last painting as well as what it signifies.
Story and Background
Frida Kahlo's health problems worsened as she got closer to the end of her life. When she was 18, she was caught in a bus accident, causing her to suffer from recurring pain. In 1952, she had to have her right leg cut off because of gangrene. In 1953, she had her third and final spine surgery. After that, she could never walk again and had to use a wheelchair for the rest of her life.
If you want to read all about Frida Kahlo's bus accident, read my other article covering the tragic event.
Even though she was sick a lot, Kahlo had a great talent for painting, and she often used her art to show how she felt while suffering from pain and discomfort.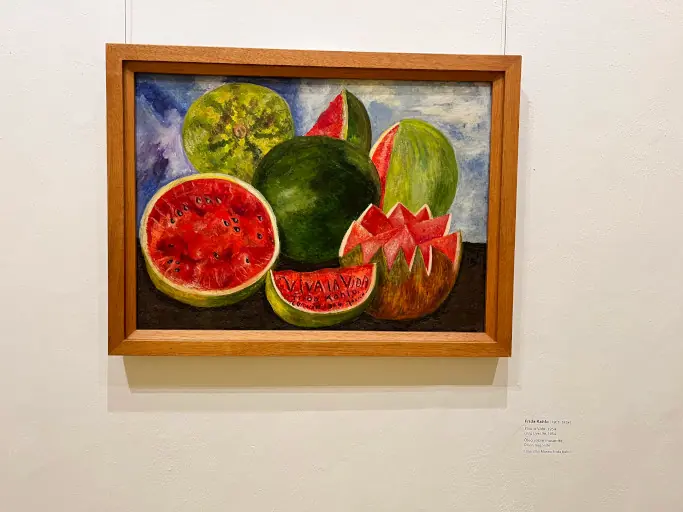 Kahlo was confined to her home for most of her life due to poor health. She often painted still-life paintings that show everyday things like fruits, vegetables, and animals in bright colors. They often look like something out of this world because she adds her own unique touches to the objects.
In 1953, a year before the end of her life, Kahlo had her first solo exhibition at Mexico's Galera Arte Contemporaneo. Doctors told Kahlo to stay in bed and not go to the opening, but she had her four-poster bed moved from her house to the gallery anyway. She arrived in an ambulance to the show, much to the surprise of her guests. [1]
Frida Kahlo's last three paintings were all painted in 1954, her final year.  The painting "Marxism Will Heal the Sick," shows a woman with a hammer and sickle. Meanwhile, "Frida and Stalin" is a portrait of Kahlo and Soviet leader Joseph Stalin. Her last and final painting, "Viva La Vida, Watermelons," is a still-life finished just eight days before her death.
What Does "Viva La Vida, Watermelons" Symbolize?
In the red pulp of the central lower watermelon wedge in "Viva La Vida, Watermelon", the words "VIVA LA VIDA – Coyoacán 1954 Mexico," are inscribed along with Frida Kahlo's name. Coyoacán is the place where Kahlo was born and where she died as well. [2]
The painting depicts various slices of watermelon. At its most basic, the watermelon could represent Kahlo herself, who had to develop a thick skin to deal with physical pain, a troubled marriage to artist Diego Rivera, and harsh criticism of her art. However, she also shows in the painting that once her shell is broken, she has a lively, fresh, and sweet outlook on life inside.
Want to know more about Frida Kahlo's art style? Read all about it in my Frida Kahlo Style Guide.
The watermelon has different cuts, such as whole, cut in half, cut in quarters, and cut into a flower shape. The watermelons are all different shades of green, which could mean that they are at different stages of ripeness or that they are at different ages.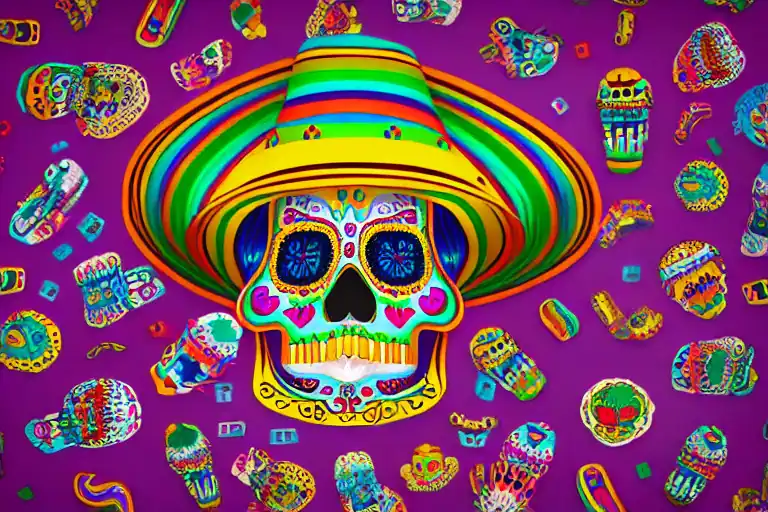 The watermelon seeds may symbolize different things. Like those of pomegranate seeds in Greek mythology, the seeds may symbolize rebirth since the fruit is gone, the seeds carry the promise of new life.
The watermelon is a popular symbol of the holiday Dia de los Muertos, which is also called "Day of the Dead." Watermelons are often shown being eaten by the dead or being close to the dead. [3]. Incidentally, Kahlo died eight days after finishing her last painting.
Want to learn all the details of how Frida Kahlo died? Check out my post covering all the events surrounding Frida's last days. Shortly before she passed, the doctors needed to amputate her leg which you can read about in my article about those tragic events.
When Diego Rivera, Kahlo's husband, was dying three years later, he painted his own watermelon epitaph titled "Las Sandias." This may have been to show how spiritually close he was to his wife. [4]
Where is "Viva La Vida, Watermelons" Located?
The Frida Kahlo Museum in Mexico City is where Kahlo's last painting is kept.  The Frida Kahlo Museum was originally called La Casa Azul (The Blue House), the family home of Frida Kahlo and Diego Rivera. [5] Upon his death in 1957, Diego Rivera donated the property and everything in it to turn La Casa Azul into a museum in Frida's honor.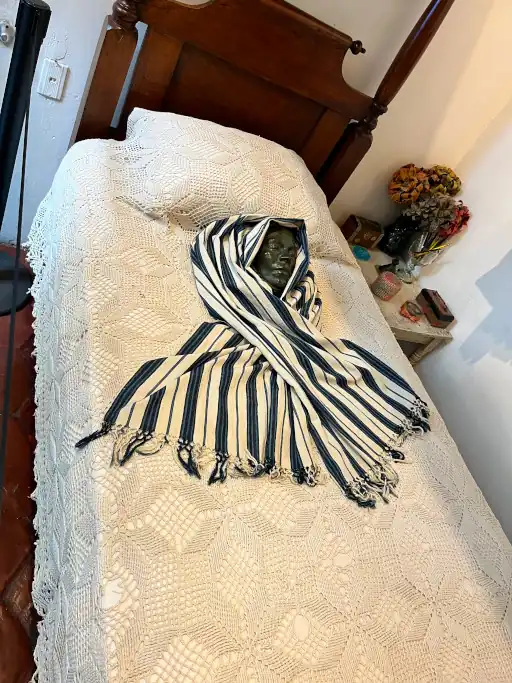 Along with "Viva La Vida, Watermelons," the Frida Kahlo museum also houses:
the ashes of Frida Kahlo
a collection of other artworks by Frida Kahlo, Diego Rivera, and other artists
everyday items used by Kahlo including her furniture and workshop
a collection of dresses and other clothes Frida had to modify to accommodate her injuries
a beautiful garden and outdoor walking area
I took a trip to La Casa Azul in the fall of 2022 and I thought it was a fun experience. It was part of a larger trip to Mexico City and it was one of my favorite spots to check out that is easy to travel to. Using a taxi or Uber the museum is a short trip from the downtown area. It's also possible to travel to the neighborhood using the gold line subway or the bus.
The collection of Frida's dresses in the museum were promoted by Vogue magazine in 2012. If you want to know more, check out my post all about Frida's relationship with Vogue.
In the area is the Leon Trotsky museum, as well as the Coyoacan open air street market. Trotsy stayed at La Casa Azul with Kahlo and Rivera during his exile and moved to the house nearby which is now the Trotsy museum. During his stay in Mexico City he was assassinated. I highly recommend the trip for anyone thinking of going!
Wondering why Frida Kahlo was friends with Leon Trotsky? Check out my post discussing communism and Frida's political beliefs.
Frequently Asked Questions (FAQs)
Get Notified When We Publish Similar Articles
References
Zamora, Martha (1990). Frida Kahlo: The Brush of Anguish. Chronicle Books. ISBN 978-0-87701-746-2.
"Viva La Vida, Watermelons." Viva La Vida, Watermelons by Frida Kahlo, https://www.kahlo.org/viva-la-vida-watermelons/.
Kahlo, Frida. "Viva La Vida – (Frida Kahlo) ◄ Tidigare Nästa ►." Viva La Vida – Frida Kahlo | WikiOO.org – Encyclopedia of Fine Arts, https://wikioo.org/sv/paintings.php?refarticle=8CEFJJ&titlepainting=Viva+la+Vida&artistname=Frida+Kahlo.
Viva La Vida, Watermelons – by Frida Kahlo, https://www.fridakahlo.org/viva-la-vida-watermelons.jsp.
"Museum." Museo Frida Kahlo, 24 Aug. 2022, https://www.museofridakahlo.org.mx/museo/?lang=en.