Frida Kahlo's self-portraits frequently depicted her physical and emotional pain. One of her famous artworks, "The Wounded Deer," gained so much recognition and drew the attention of the art world up to this day, but what was the inspiration for this artwork? Furthermore, what is the significant connection of this piece to her life?
Kahlo painted "The Wounded Deer" to deal with the suffering caused by her failed back surgery. In the painting, a deer is badly wounded by arrows. Kahlo hoped her surgery in New York would be successful and end her suffering. Her art shows how disappointed and angry she was it didn't work.
Frida Kahlo's works have always been about more than just self-portraiture or realism. Read on to learn more about The Wounded Deer's background and history, as well as the symbolism and themes that lie beneath the surface of this artwork.
Wounded Deer Painting Background
In June 1946, Frida and her younger sister Cristina took a flight to New York so that Frida could have a bone graft operation. They fused four of her vertebrae and put a metal rod in her back to reinforce her spine. However, it didn't and there were signs that the wrong vertebra had been fused. She was in excruciating discomfort and insisted on numerous morphine injections.
Following this unfortunate surgery, Frida painted the Wounded Deer and gave it away as a wedding present for her friends, Lina and Arcady Boytler. There was an attached note saying that the painting was given so that she could always be with them.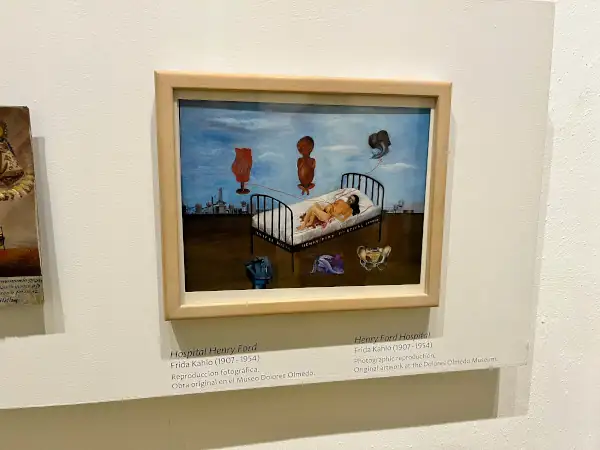 Pain and sadness are both depicted through the use of arrows in "The Wounded Deer." In this piece, Frida shows herself as a deer that has been shot with arrows many times. The mental and emotional pain she felt because of her illness is shown in the picture, which makes it very personal. With the exception of the red blood oozing from the deer's wounds, the painting is a muted brown. The method employed here is similar to that of her other self-portrait "The Broken Column." [1]
Frida's pet deer, Granizo, served as a model for this piece. [2] Granizo is also said to have inspired a different drawing of a young deer in Frida's diary around the time she painted The Wounded Deer.
What Does the Wounded Deer Mean? Symbolism and Themes
Kahlo frequently depicted herself and her pain from her health issues in her paintings. In this case, the incident that caused her pain was the unsuccessful surgery stemming from the accident.
The background of the painting is a forest with dead trees and broken branches. These imply nothing is alive and give the viewer a feeling of fear and desperation. There are no tree branches visible or foliage and leaves. In addition, the broken branch next to the deer may be a reference to a Mexican funeral tradition in which a branch is placed on the grave of the dead.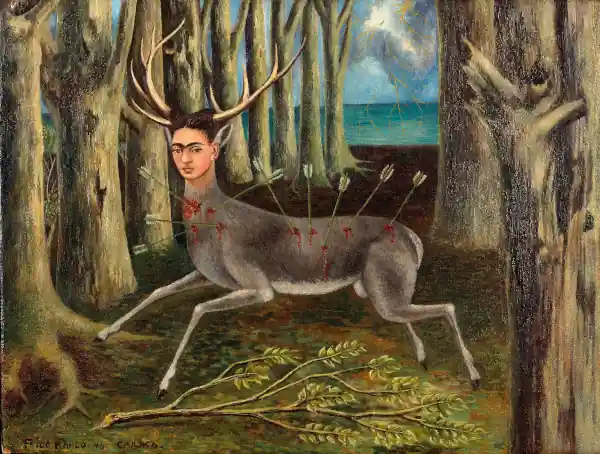 Kahlo painted her own head on the deer, making a subject that is part human and part deer. This is like her real life, where she needs medical aids like braces, corsets, and crutches to get around due to her disability.
In the painting, the deer is impaled by arrows, much like how Frida herself was impaled by an iron handrail when she was caught in a bus accident at 18. This impalement is the direct cause of Frida's life of pain and her quest to regain her former self, which led to over thirty surgeries.
One of the most striking things you'll see in the painting is its similarity to the fate of St. Sebastian. [3] Multiple arrows impaled and martyred St. Sebastian, an early Christian saint.
In the painting, the deer also has a wounded leg, which is similar to Frida herself who suffered from polio as a child, walked with a limp all her life, was subjected to the tragic bus accident that left her disabled, and finally, had to have her leg amputated due to gangrene.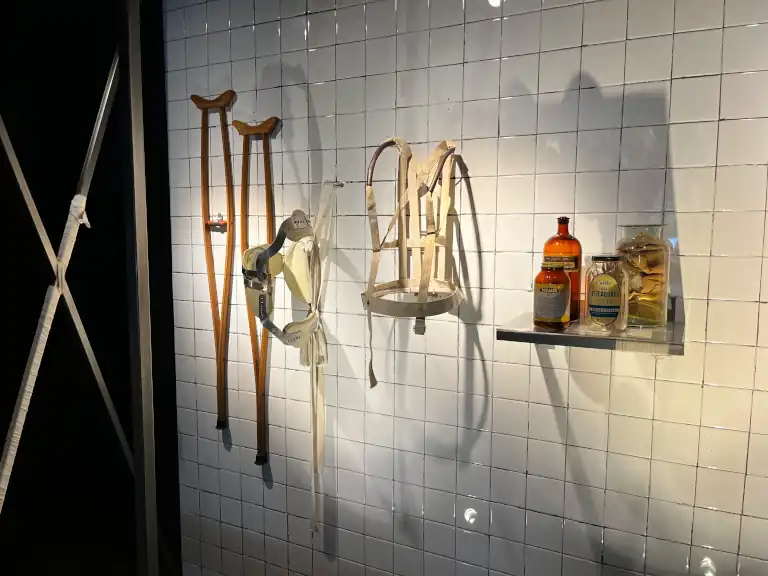 In the lower left part of the painting is the word Carma, a Spanish word for the eastern concept of Karma, which means fate. This is how she shows her acceptance that she can't change her own destiny even if it is riddled with sadness.
Unlike many of Frida's other creations that contain lots of vibrant colors, "The Wounded Deer" is predominantly brown in color. Frida conveys themes of both suffering and hopelessness that make the painting both somber and depressing.
Where is the Wounded Deer Located?
The painting currently belongs in a private collection by Carolyn Farb, an art collector living in Houston, Texas who bought the painting at an auction for an unknown price.
Carolyn Farb is a philanthropist, fundraiser, and art collector. In her philanthropic efforts, Carolyn has raised $50+ million for many charities. Aside from a painting by Frida Kahlo, Carolyn Farb's collection is also comprised of other notable artists such as:
Julian Schnabel
Yigal Ozeri
Javier Marin
Mark Bradford
Joseph Cornell
Get Notified When We Publish Similar Articles
Frequently Asked Questions (FAQs)
References