Dora Maar is most remembered as the muse behind the artist Pablo Picasso's Weeping Woman series and the most interesting among his mistresses. Why did she become his favorite subject in some of his paintings? Furthermore, what factors made Picasso depict Maar as a sorrowful and broken woman?
Picasso painted Dora Maar because she was his lover. Maar was a photographer and painter that inspired Picasso and modeled for his paintings. Picasso was in a relationship simultaneously with Maar and Marie-Thérèse Walter and made them fight. His manipulation devastated Maar deeply.
Many stories about Dora Maar and Pablo Picasso's exciting yet torturous romance have been told. Read on to learn more about the historical and personal events that influenced Picasso's works featuring Maar.
Background of the Portrait of Dora Maar
The Portrait of Dora Maar was painted in 1937, a year after Picasso met Dora Maar at a cafe in Paris [1]. Dora Maar, whose real name was Henriette Theodora Markovitch, was a photographer, painter, and poet.
Maar took part in the surrealist art movement in 1933 and was one of the few women whose works were included in the group's exhibitions at a time when men dominated the art scene. She often painted distorted people, strange objects, and dreamlike landscapes that made people question what they thought was real. Her style was known for putting things next to each other in strange ways and putting things together in ways that didn't make sense.
Having been artists during social and political unrest in France, Maar and Picasso shared Parisian left-wing politics with other artists and overtly expressed their ideologies in their works. [2]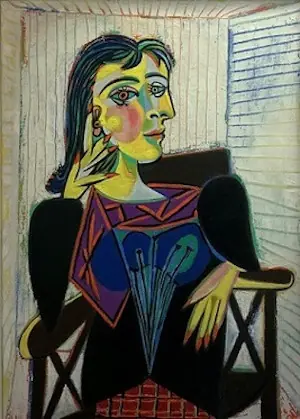 Maar and Picasso's tempestuous relationship lasted for nine years after 55-year-old Picasso fell in love with then-29-year-old Maar. They began living together shortly after they met, and Maar was able to document the making of Guernica, one of Picasso's greatest works, during this time. [3]
Picasso, however, pursued a romantic affair with Maar without ending his relationship with the mother of his daughter, Marie-Therese Walter. He even stirred animosity between the two women by painting each in the other's clothes.
Picasso eventually parted ways with both women—Walter in 1940 and Maar in 1943.
One of Picasso's most valuable paintings is one of Walter titled Le Reve. Discover the hidden meaning and symbolism of Picasso's masterpiece Le Reve.
Symbolism and Themes of the Portrait of Dora Maar
Picasso's paintings of Dora Maar also show that he saw her as a sad, angry, or tortured woman. One of the most famous depictions of Maar is in Picasso's series of paintings titled "The Weeping Woman," which features her with tears streaming down her face and a look of intense pain and sorrow.
Maar, on the other hand, didn't like these depictions and said Picasso was showing his pain, not hers. "All [his] portraits of me are lies. Not one is Dora Maar," she said. [4]
Picasso's cubist painting style also made many of his portraits of Maar look broken and distorted. Additionally, Picasso's portraits of Maar have different color schemes in other parts; this shows how Picasso saw Maar's personality from different angles.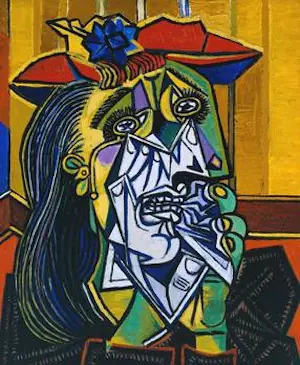 Picasso's anti-fascist stance was shown in Guernica by the image of a woman crying. The painting was made in 1936 when the Spanish Civil War broke out. Maar witnessed the creation of Guernica, signaling her deep artistic and personal relationship with Picasso.
Maar was sitting in an armchair in her famous 1937 portrait, which is said to be a metaphor for a beautiful woman's inevitable old age and death.
Here are some additional Picasso pieces that allegedly drew inspiration from Maar:
"Weeping Woman" (1937) – This painting is one of Picasso's most famous depictions of Maar. It features her with tears streaming down her face and a look of intense pain and sorrow.

"The Dream" (1937) – This painting features Maar in a dreamlike landscape, surrounded by surreal elements, including a floating head and a bird.

"Femme assise" (1939) – This painting is a portrait of Maar sitting in a chair, featuring her with a contemplative expression and a sense of melancholy.

"La Lecture" (1939) – This painting depicts Maar reading a book, highlighting her intellectual and artistic pursuits.

"Tête de femme (Dora Maar)" (1941) – This painting is a close-up of Maar's face and highlights her distinctive features, including her sharp nose and expressive eyes.

"Femme en pleurs" (1942) – This painting features Maar in a state of anguish, with tears streaming down her face and her head in her hands.
Where is the Portrait of Dora Maar Located?
The Portrait of Dora Maar is housed in Musee Picasso in Paris, in the restored Hôtel Salé. The museum boasts a collection of 5,000 of Picasso's works, some of which were donated to the state by Picasso's family in place of paying inheritance taxes and in respect of the late artist's wishes. [5]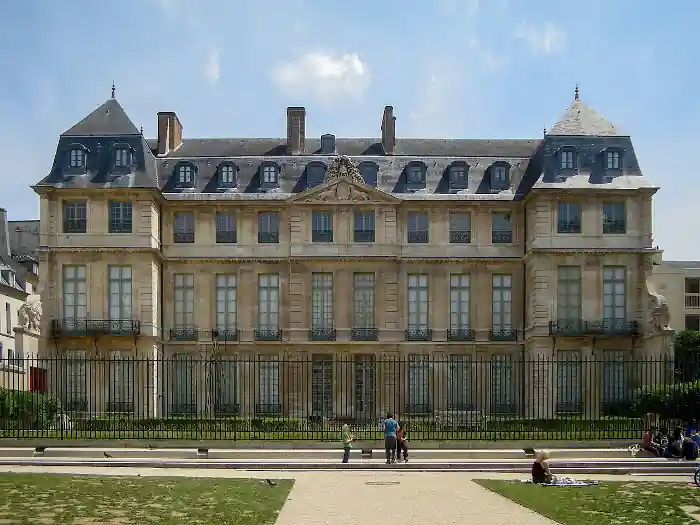 The government created the Picasso Museum after a national debate. It opened in 1985 and was closed for a renovation in 2009 which took five years due to controversies surrounding the management of the museum's then-president Anne Baldassari. [6]
The museum is of great cultural significance, especially when it was being built, wherein a public design competition was even held to choose which architect would lead the renovation of the Hôtel Salé. [7]
Curious about more Picasso paintings and drawings? Explore Picasso's famous tribute to the literary hero Don Quixote.
Get Notified When We Publish Similar Articles
Frequently Asked Questions (FAQs)
References