Everyone agrees that the Spanish painter and sculptor Pablo Picasso is one of the most important figures in the history of 20th-century art. Animals played an important role in both Picasso's personal life and his artistic output. What drove him to create such influential pieces? How frequently did Picasso depict birds in his works?
Picasso painted birds and animals. They were among his favorite painting subjects and life companions. Picasso's father was a breeder of pigeons and taught his son to paint them. His lifelong fascination with these birds eventually manifested itself in his works of art.
Picasso was known to be a fast-paced painter and an animal lover. Read on to find out how his passion for birds inspired many great works of art and how much of an impact his work has had on the world at large.
Bird on a Tree (L'Oiseau)
"Bird on a Tree" or "L'Oiseau" is a painting of a distorted black bird that was made in August 1928. It is one of the many paintings by Picasso featuring birds as his subject. Picasso painted this when he was transitioning from a more traditional style to the modernist style he is best known for.
The painting shows a black bird with a beak and eyes on a point with straight legs that look almost similar to the tree's twigs. Its body is drawn in a simplified and almost abstract style. The painting is a great example of Picasso's cubist style, which is made up of broken shapes and angles.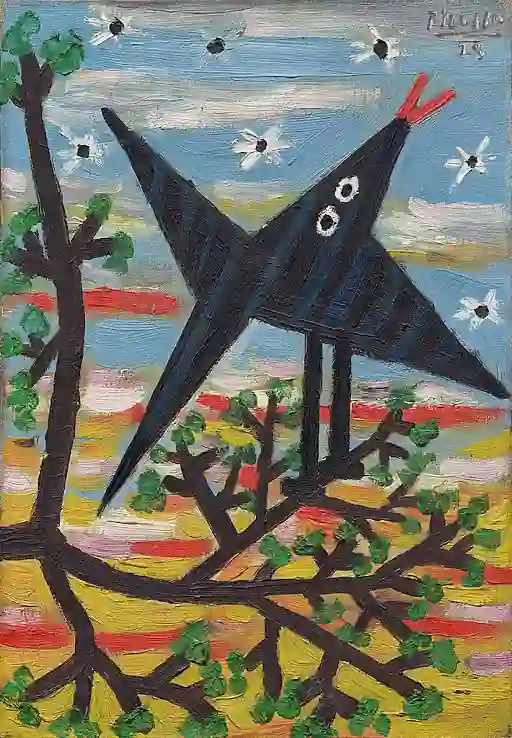 The painting's upper background has bits of blue and white that look like clouds in the sky. The lower background has warm yellow and bright orange colors that look like a sunset. The colors in the painting are soft and muted, giving it a quiet feel while still showing that the bird is there.
In the top right Picasso's signature is prominently displayed. Curious whether or not it appears on all of his groundbreaking paintings? Learn about the intricacies of Picasso's signature in my other post.
Oiseau means bird in French. Picasso speaks Spanish and French, and he has great contemporary history paintings that carry the ghost of the great French legacy of history paintings, from Poussin to Géricault.
Bird on a Tree was created when Picasso was on a summer vacation in Dinard, France. With its beaches and mild climate, Dinard is a famous holiday destination located on the northwest coast of France. Picasso spent most of his adult life in the countryside, like Dinard, while creating many of his masterpieces.
"Dove of Peace" Lithograph and Drawing
Picasso was invited to design an image representing peace because of his famous work, Guernica, which was hailed as one of the world's most moving anti-war paintings. [1] "Dove of Peace" by Pablo Picasso is a powerful picture of the artist's commitment to peace. The dove's lithograph and drawing have become well-known symbols of peace, and they have been used in many peace movements throughout the 20th century.
The "Dove of Peace" drawing was based on a pigeon picture given by his great friend and rival, Henri Matisse, a French artist. For more than 50 years, Henri Matisse and Pablo Picasso were both friends and enemies. Henri Matisse and Pablo Picasso first met in 1906, and they would go on to admire one another's artistic achievements for the rest of their lives.
Interested in the unique styles and techniques that captured the imagination of Matisse and the rest of the world? Discover the details in my deep dive of Picasso's style and methods.
On March 10, 1962, Picasso created a lithograph called "Dove" (actually a Milanese pigeon, based on Matisse's gift) to become a symbol for the World Congress for General Disarmament and Peace held in Moscow between July 9 – 14, 1962. [2] On the black background of the lithograph is a white bird often seen as a sign of peace. The Tate Gallery and MOMA have this in their collections.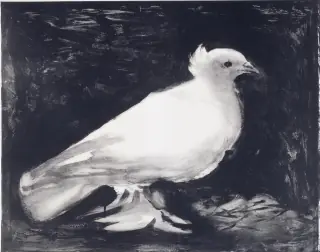 The First International Peace Conference that took place in Paris in 1949 selected Picasso's "Dove of Peace" as its emblem. This has become a symbol of peace and togetherness around the world. The piece, which is framed by a profusion of olive branches and bright flowers, is meant as a symbol of joy for those who are working to break down barriers between people and as an offering to those who are battling through war.
Picasso named his fourth child 'Paloma', the Spanish word for 'dove'. He had four children from three different women. Paloma is his youngest child born to him and Françoise Gilot, a French painter who bore Picasso two children.
Years later, Picasso refined the image into a simple line drawing in black that has become a global symbol of peace even today. It is often seen as an international symbol of the peace movement and of coming together when there is conflict.
"Cat Catching a Bird" Painting
The "Cat Catching a Bird" painting was crafted during the Spanish Civil War. In the first three months of 1939, the cities of Madrid, Barcelona, and Valencia fell to Franco's army. [3] Picasso's paintings from this time show death and violence, which show how he felt about the Spanish Civil War and foreshadow the terrible effects of the Second World War on the whole world. The misery of the Spanish civil war was intended to be conveyed in the picture.
Picasso's mother died around the same time the painting was created. Due to the end of the Civil War in January 1938, Picasso was not able to go to her funeral. [4] Political and personal events mixed in his mind and led him to create paintings that were full of allegorical meanings.
The death of his mother is not the only time Picasso confronted mortality. Delve into the depths of Picasso's psyche with my riveting analysis of his last self-portrait.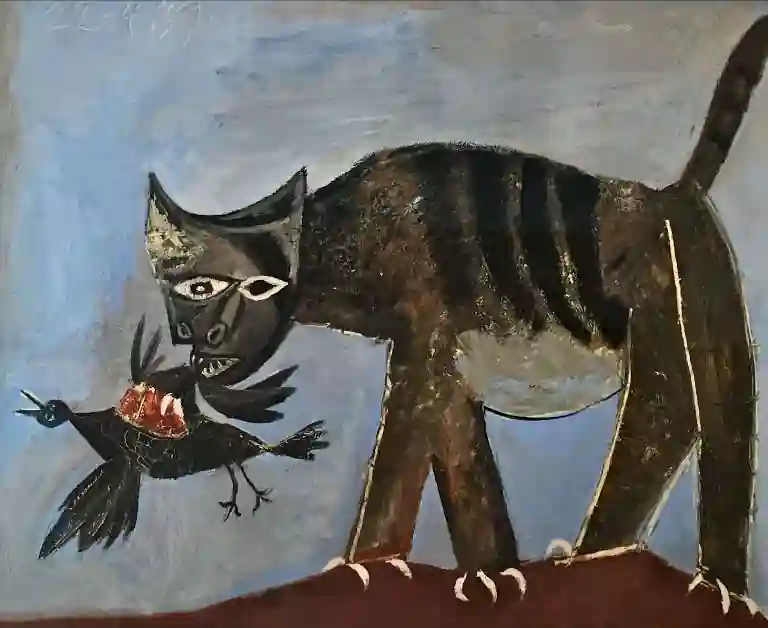 As seen in the artwork, the bird is struggling against the ferocious cat as if trying to free itself from the enemy's hold. The artwork is tragic and horrifying because of the graphic depiction of the cat eating the bird while the bird attempts to get away. This reminds the audience that there is always a strong enemy that wins over the other side, while the other side loses terribly. Picasso turned to visions of animals with terrifying expressions.
The cat is dirty and distorted, covered in mud, with teeth and disturbing eyes. Picasso states the cat "stands menacingly on the threshold of the times to come." The artist drew a scary creature with razor-sharp teeth, strong claws, and a mesmerizing look.
The bird's wings are damaged. Seeing the bird's open wound on its body as it struggles in vain to break free from its oppressor is saddening and horrifying. The bird's wing is broken and bleeding, and its deadly claws and gleaming eyes stand out against the drab background.
Picasso didn't limit his expression to just birds in his artistic animal kingdom, take a walk on the wild side with my post exploring all the animals Picasso drew and sketched.
Bird Line Drawings
Picasso did line drawings to sketch his paintings before beginning them. Even though Picasso's line drawings are among his simplest works, they are far from dull. A lot of his best-known paintings are the ones with the simplest compositions and most continuous line work since they represent experimentation at its purest. Picasso boiled down complicated real-world things, like people, animals, and objects, into a single line. [5]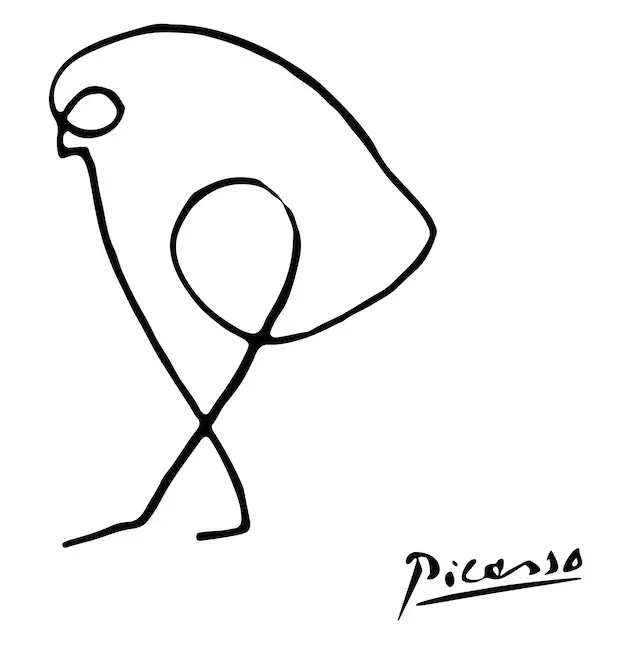 Picasso's rivals, like Henry Matisse, also made popular line drawings. Professionally, the two were rivals, but this competition grew into respect and, with time, profound admiration. Similar to Picasso, Matisse experimented extensively with line art. Like Picasso, he explored the expressive power of the line gesture to show personal, introspective themes like naked figures, the female form, and mythology. [6]
Want to discover how the fierce rivalry of Picasso and Matisse pushed them both to new artistic heights? Explore how their duel influenced the creation of Le Reve.
Picasso made popular minimalist line drawings including those of:
Birds
Owls,
Penguins
Butterflies
Ostrich
Sparrows
Roosters
Flamingos
Doves
One of Picasso's popular line drawings includes his dog Lump. Lump is a Dachshund belonging to Picasso's friend and photographer David Douglas Duncan. Picasso and the dog grew fond of each other, and Picasso even used this Dachshund as a source of creative inspiration, drawing rapid, stylized sketches of the dog.
Picasso also often did drawings that were portraits. Step into the world of Picasso and Igor Stravinsky's unique friendship and discover how it influenced the art of both men, culminating in an unforgettable drawing of the composer.
Get Notified When We Publish Similar Articles
Frequently Asked Questions (FAQs)
References