Pablo Picasso was a famous Spanish artist of the 20th century who painted, wrote poetry, made ceramics, and made sculptures. In 1918, Picasso met his first wife, Olga Khokhlova, in Rome. Later in life, Picasso met his mistress Maria-Therese Walter. Walter is depicted in his painting titled "Le Reve." What does Le Reve signify? What themes does it play with and represent?
Pablo Picasso's "Le Reve" (The Dream) represents his erotic relationship with French model Maria-Therese Walter. It portrays a lustful image of Picasso's mistress who was 22 years old, in a sexual fantasy with her head turned up and her hands making a V shape.
Pablo Picasso painted a series of erotic content centered on Maria-Therese Walter. Read on to learn more about Picasso's relationship with Walter and how his mistress largely inspired his art in the 1930s.
Background of Le Reve
Picasso had an affair with 17-year-old French model Maria-Therese Walter in 1927. Strolling in the fashion department of Galeries Lafayette in Paris, Picasso, who was 45 years old, stumbled upon Walter. He was immediately enchanted by her. He took her by the arm and told her, "You have an interesting face. I would like to do a portrait of you. I am Picasso." [1] Walter was unaware of the man whom she just met, so Picasso brought her to a bookshop and introduced himself through his art featured in books.
Picasso and Walter saw each other in secret for 8 years. They began a sexual relationship a week after they met. When Walter was a teenager living with her mother, she told her mother that she would visit a friend whenever she saw Picasso. They eventually lived secretly in Boisgeloup.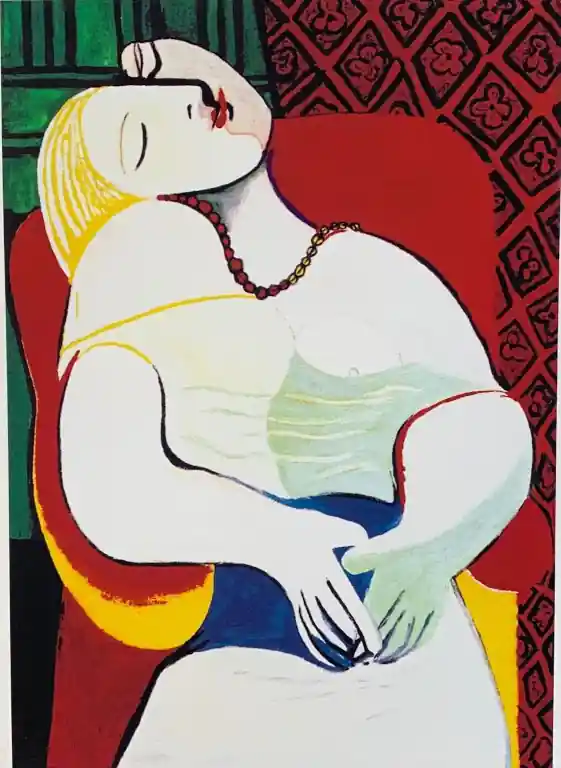 A series of Picasso's paintings were based on Walter, his mistress. She became his muse. When he finally showed her in his paintings, he used rich colors and curved lines to show their sensual love, showing her breasts and his manly parts. [2] Aside from "Le Reve," (1932) other paintings which featured Maria-Therese Walter include:
"Girl Before Mirror" (1932)
"The Dreamer" (1932)
"Nude on a Black Armchair" (1932)
"Maria-Therese" (1937)
Picasso and Walter's passion led to a pregnancy producing Pablo Picasso's second child, Maya, in 1935, and the looming end of Picasso's marriage with his wife Khokhlova. Maya then shared her mother's place as Picasso's favorite subject.
Picasso and Walter's romance did not last long, however, soon after Picasso met his next mistress, Dora Maar. Dora Maar is a famous French artist and photographer, and she caught Picasso's eye and became his muse for his next pieces.
Want to know more about Picasso's love and obsession with his muses? Read all about the turbulent relationship in my post about Picasso's Portrait of Dora Maar.
What Are the Themes and Symbols of Le Reve?
Among all of Pablo Picasso's subjects, art critics describe Maria-Therese Walter as Picasso's "Golden Muse." An analysis of Picasso's top 200 most expensive works at auction showed that Marie-Thérèse Walter is the queen of Picasso's muse market, with average prices that are higher than those of Picasso's other muses.
Picasso mixed surrealism and classicism in Walter's portrait in "Le Reve." Classicism can be seen in the painting's muted colors, smooth lines, and calm composition. On the other hand, the painting also has surreal parts, like the face's strange shape and the dreamy atmosphere. These parts perfectly show Picasso's unique style, which combines classic and surreal elements to make a painting that is both interesting and mysterious.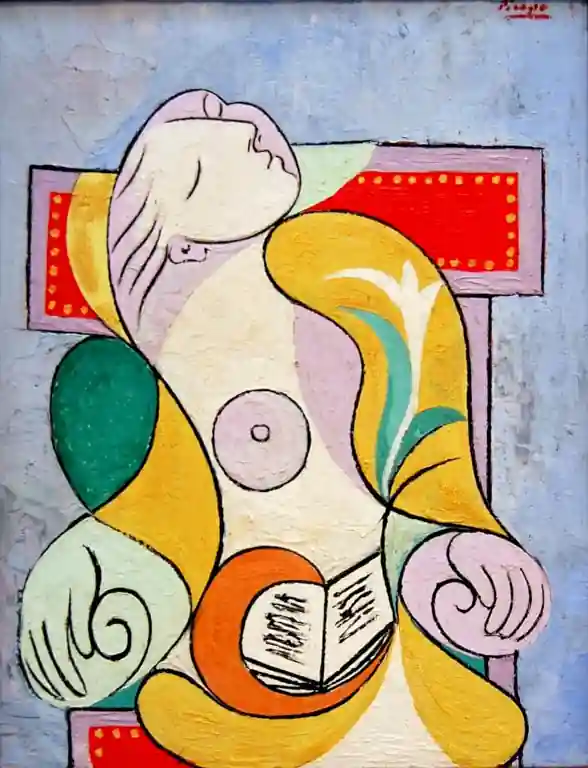 There is erotic imagery in "Le Reve." In the painting, Walter is lying down, her legs slightly apart in a seductive pose, and her eyes are closed in a dreamy, attractive way. If one inspects "Le Reve" in careful detail, one notices that half of the model's face is Picasso's erect penis hidden behind her upturned face. [3] The painting further suggests the lover's lust for the woman in her sleep as her right nipple is exposed, and her hands form a V shape.
Picasso's portraits of his lovers are not always so sensual. If you want to understand the birth of the Cubism Art Movement that Picasso is so famous for, check out my post about a portrait of a different lover with Ma Jolie.
Picasso painted "Le Reve" in part because he wanted to beat the French artist Henri Matisse at making art. Fauvism is an art movement from the early 20th century that is most often linked to the artist Henri Matisse, Picasso's rival and friend. Matisse is known for his use of strong brush strokes and bright, bold colors which are similar to the color scheme of "Le Reve." Many of Matisse's paintings have the same color scheme, which is a mix of bright primary colors and softer pastel tones.
Picasso finished this piece in as little as five hours. He did this to prove his artistic virility against his artistic rival, Matisse. Matisse is often thought of, along with Pablo Picasso, as one of the artists who did the most to shape the revolutionary changes in the visual arts in the early part of the 20th century. Both made important changes in painting and sculpture.
The artistic duel of Picasso and Matisse played out in drawings as well as paintings. If you want to explore another aspect of the saga, check out my post about Picasso's drawings of the animal kingdom.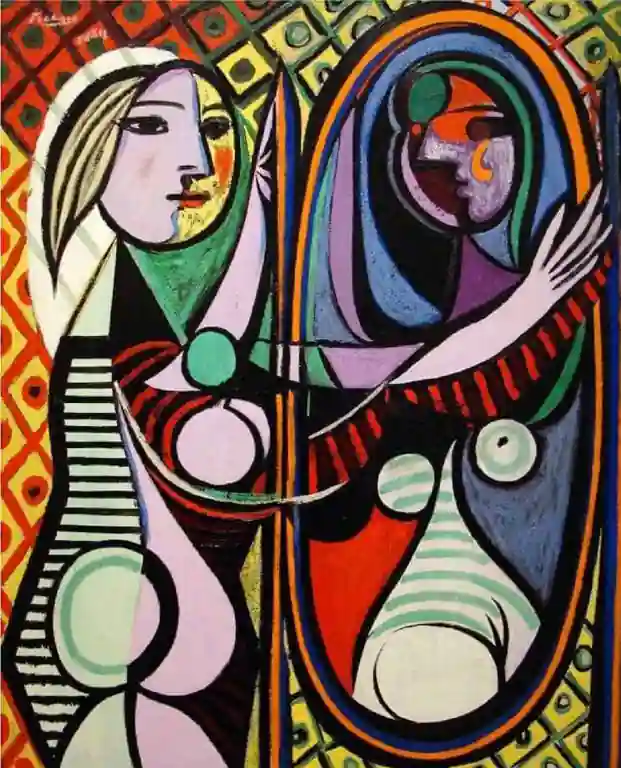 Walter looked like she was half asleep and half awake because the colors of the background and her body are so different from each other. Like all of Picasso's paintings, which are all slightly off from how the subject really looked, this makes for an interesting and captivating image. Picasso's painting has a dreamlike quality that lets people see Walter's dreamlike state and enjoy the beauty of the painting and its subject.
The contrasting colors of the background and Walter's body produced a distinctive split in the head, alluding to Walter being half asleep and half awake. The painting captures the moment of Picasso's deep introspection, as he attempts to reconcile his fantasies and reality. Through this split, Picasso conveys the idea of how our realities can be shaped by our dreams and how both can be impossible to separate.
Picasso's paintings can capture both the darkness and the light of human expression. The joyful expression and bliss of Le Reve stands in contrast to some of Picasso's earlier portraits. If you want to explore the tragic inspiration behind some of his earlier melancholy masterpieces, check out my post about The Blue Nude or journey into the somber expression of The Tragedy.
Where is Le Reve Located?
"Le Reve" currently belongs to the private art collection of Steve Cohen, the CEO of SAC Capital Advisors, who purchased it in 2013.
Before Cohen bought the painting, it belonged to Steve Wynn, a casino magnate and art collector. In 2006, Wynn accidentally elbowed the Le Reve while drunkenly showing it to his friends. He allegedly has retinitis pigmentosa, a disease that makes it hard for him to see the edges of things.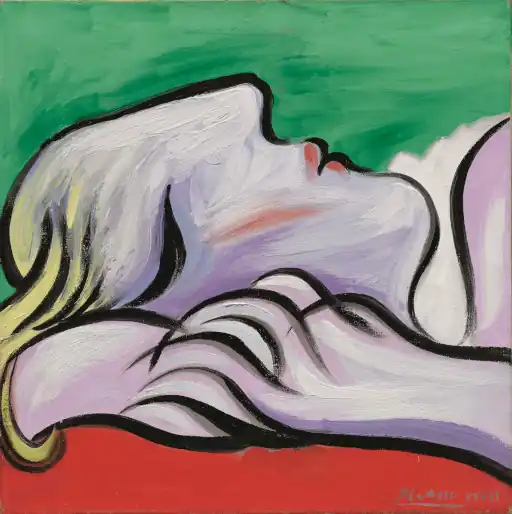 After six years and a 6-inch tear, which is now said to be invisible, the masterpiece was sold to Cohen on March 26, 2013, for over $155M, setting a new record for the highest amount ever paid for a work of art at that time. [4]
How Did Picasso Paint Le Reve?
Here are some facts about Picasso's "Le Reve" masterpiece:
It is an oil painting on canvas.
It employs abstract and cubist methods to create a dreamlike distortion of the portrayed woman's body.
It uses Fauvism as a technique with its use of bold and bright colors
It measures 130 x 97 cm.
Looking to explore how Picasso's masterful brushstrokes revolutionized the art world? Check out my comprehensive guide exploring Picasso's style, techniques, and processes.
Frequently Asked Questions (FAQs)
Get Notified When We Publish Similar Articles
References