Pablo Picasso was a prominent artist in the mid-20th century who was famous for his artistry in his paintings and other works. Devoted to the arts his entire life, he produced over 50,000 pieces, including a painting he titled "Blue Nude." He inspires and influences many artists and art connoisseurs. What motivated Picasso to paint Blue Nude? Furthermore, what was the reason for his art style during this time?
Picasso painted "Blue Nude" because he was mourning the suicide of Carlos Casagemas, his close friend. On February 17, 1901, Casagemas shot himself in his right temple in the L'Hippodrome Cafe in Paris. Picasso grieved for years and led to a series of somber blue paintings during his "Blue Period."
Known for using art styles such as Cubism and Surrealism, Picasso created paintings with various symbolisms and representations. Read on to learn more about Picasso's Blue period and the deep narrative that birthed it.
The Background of Blue Nude
Between 1900 and 1904, Picasso had a "Blue Period," where he painted somber images and themes. When his friend Casagemas ended his life in Paris, Picasso took it hard, affecting him deeply. Starting with the tragic event, the color blue became prominent in Picasso's paintings, with Picasso only using warm colors occasionally during the period. [1]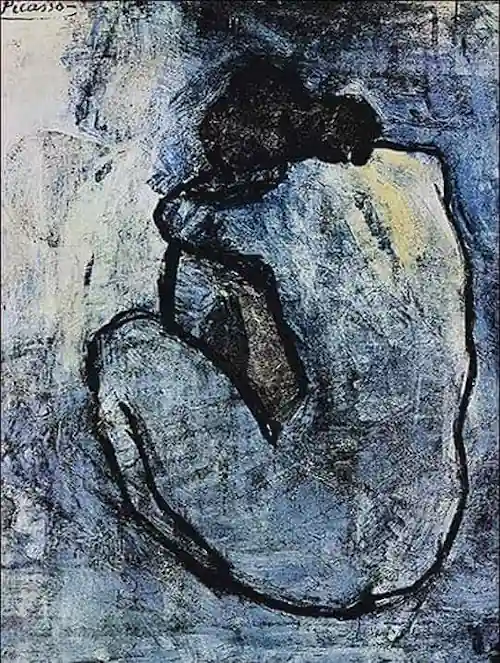 In this period, French artist Paul Gauguin influenced Picasso. He and Gauguin had a mutual friend, Paco Durrio, who was also an artist. They worked a lot in Durrio's studio, which exposed him even more to Gauguin's art style. [2]
Gauguin painted several paintings in the same style as the model's pose in "Blue Nude," which was painted in 1902. In 1903, Gauguin died, but despite their short-lived friendship, Picasso drew lots of inspiration from his works.
Curious about the Blue Period? Learn about the evolution of Picasso's Blue Period and why The Blue Nude is part of a pivotal moment in his artistic career.
What Are the Symbols and Themes of Blue Nude?
The model's back is turned to the viewer in Blue Nude. It gives the impression that the viewer is looking down at her. It makes the viewer feel that the model is isolated, outcasted, and rejected.
With her arms against her covered face, the model could be crying. Nothing is happening in the background except that it is dark and empty, like an endless void. [3]
The melancholy theme and symbolism of the Blue Nude reflect Picasso's loss and depression at the death of his friend Carlos Casagemas. Picasso painted Blue Nude less than a year after Casegamas' death.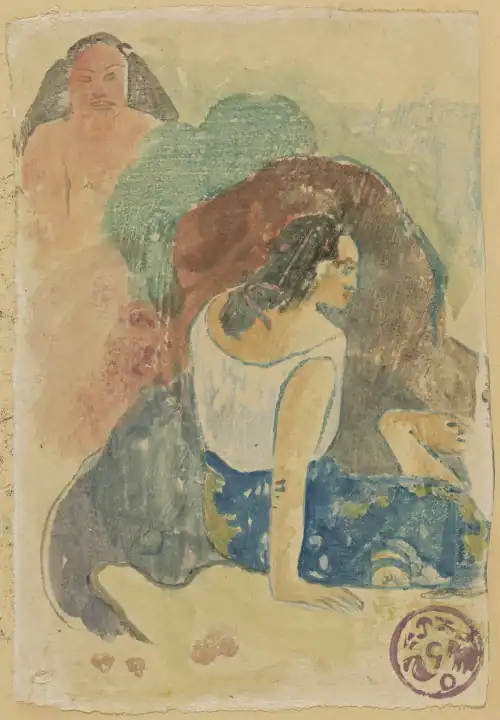 Paul Gauguin, a prominent figure in Picasso's life during this time, began as an Impressionist but eventually shifted to a Symbolism approach. Picasso used some of Gauguin's techniques and styles to learn new styles and recreate Gauguin's works while mourning the loss of Casegama.
In addition to Blue Nude, here are some other paintings that were created in Picasso's Blue Period:
The Old Guitarist (1903-1904)
La Vie (1903)
Seated Woman with a Book (1903)
The Tragedy (1903)
Celestina (1904)
Woman with Bangs (1904)
The Blind Man's Meal (1903)
The Blue Room (1901)
Portrait of Soler (1903)
Femme aux Bras Croisés (1902)
One of the most famous Blue Period paintings is The Tragedy. Discover the creative process behind The Tragedy, and how it captures the essence of Picasso's Blue Period with its haunting and melancholy style.
Where is Blue Nude Located?
The Museu Picasso in Barcelona houses Blue Nude as well as over 4,000 of Pablo Picasso's original works, making it one of the largest Picasso collections. The museum opened on March 9, 1963, and it was already around when Picasso was still alive. It was the project of his friend and private secretary, Jaume Sabartés, a writer, biographer, and professor. Their friendship goes way back to when they were still students at La Llotja in Barcelona.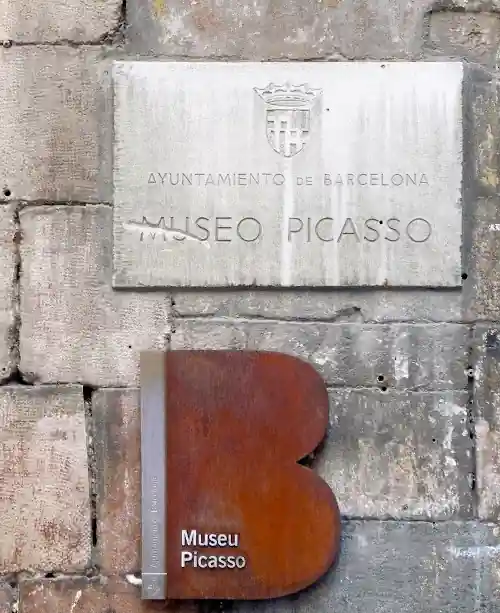 Sabartés, who owned several Picassos, nearly gave up his whole collection to the museum while saving a few pieces for himself and his friends. Picasso meticulously picked out the art pieces he donated that resonated with the city, including the Blue Nude.
The collection grew even more when Picasso's benefactors donated the paintings to the museum. Another one of Spain's famous artists and Picasso's rival, Salvador Dali, also donated some of Picasso's to the museum [4]
Get Notified When We Publish Similar Articles
Frequently Asked Questions (FAQs)
References