Frida Kahlo was a famous Mexican artist known for her bright and colorful self-portraits that often showed her intense physical and emotional pain, culture, and political views. She was also a strong advocate for the rights of the working class and social justice in her art. This has led many to ask: was Frida Kahlo a communist? And, what events in her life shaped her political ideals?
Most of Frida Kahlo's life was spent as a communist. In 1927, she joined the Mexican Communist Party. In her art, she was fond of incorporating political symbols that support communism. When she died in 1954, her coffin was draped with the communist flag. 
Frida Kahlo and her art have many ties to her political ideals and beliefs centered on communism. Read on to learn more about how she formed her political views, as well as how she used her life and her art for activism. 
Early Life and Formation of Frida Kahlo's Political Beliefs
Frida Kahlo grew up during the ruthless Mexican Revolution. During this time, the country was fighting to overthrow Porfirio Diaz's dictatorship and establish a democratic government. There was a fierce struggle for land reform because the government was fighting to keep control, and local communal groups were trying to keep their land. The Kahlo family finances also suffered as the revolution progressed, and there were times when they had to remortgage the house, sell their furniture, and even rent out rooms just to get by. [1]
Frida Kahlo's lifelong struggle with physical and mental illnesses such as polio, debilitating injuries from a terrible bus accident when she was 18 years old, and numerous surgeries to treat her illnesses, may have drawn her to a Marxist-style healthcare system. This system tries to make healthcare available and fair for everyone, no matter how much money they have or what their social status is. 
If you want to know all about Frida Kahlo's tragic accident, check out my post about the bus collision and how it affected her art career. The accident would eventually lead to her leg being amputated which I discuss in my article about her late life surgeries.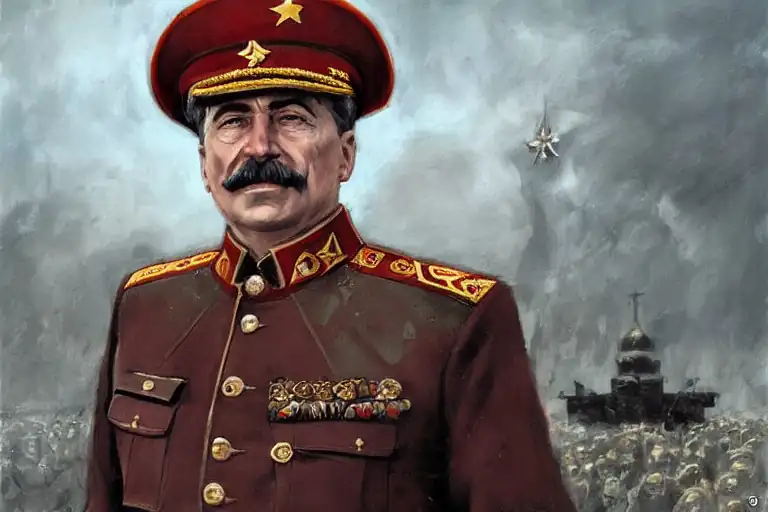 Throughout her life, Kahlo was exposed to many intellectuals and free-thinkers from art and political circles. Growing up, she attended the prestigious National Preparatory School, where she formed a group with nine of her schoolmates called "Cachuchas" who later on became leading figures of the Mexican intellectual elite. [2]
When Kahlo joined the Mexican Communist Party in 1927, she was introduced to several political activists and artists including exiled Cuban communist Julio Antonio Mella and Italian-American photographer Tina Modotti. It was at one of Modotti's parties that Kahlo was reintroduced to Diego Rivera, a fellow artist and member of the Mexican Communist Party, who eventually became her husband. [3]
Rivera and Kahlo went to other countries more than once to showcase their art. Some of the cities they traveled to are London, Paris, and San Francisco. The couple stayed for three years in the United States. On a political level, she became very critical of the United States, which she saw as the perfect example of how industrialization and capitalism can be used to take advantage of other people. [4]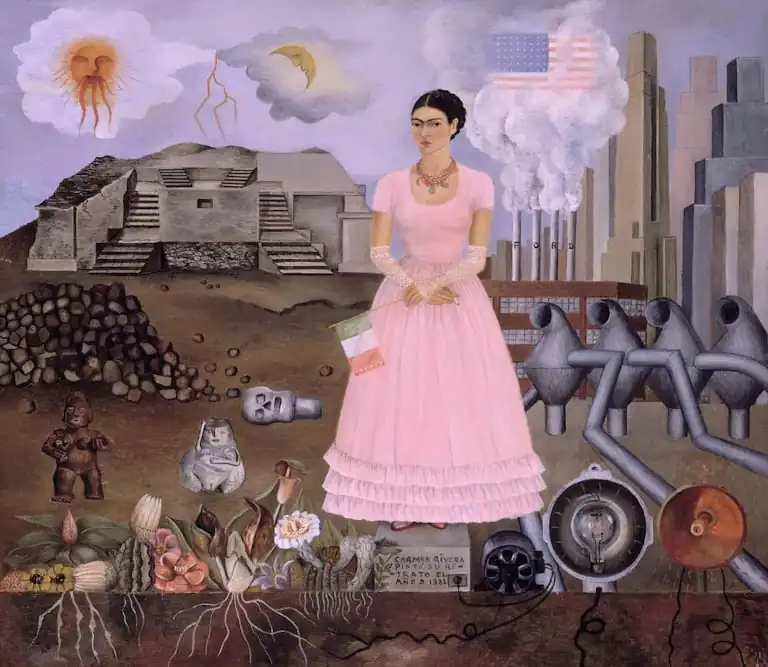 Kahlo's art aimed to help the poor and the struggling. She accepted a short teaching position and encouraged her students to treat her in a non-hierarchical way while teaching them to appreciate Mexican popular culture and folk art. She was able to secure three mural commissions for her students as well as a commission from the Mexican government to make murals depicting Coyoacán-based laundry women. 
What are the Political Messages in Frida Kahlo's Artworks?
Frida Kahlo's fruit still life paintings are often seen as political symbols. She often used fruits like pineapples, mangoes, and figs to show that she was Mexican. As Mexico was under Spanish colonial rule for centuries, these fruits may have been symbols of resistance to colonization. In "Fruit of Life," she uses doves and inscriptions to highlight her political influences and send messages to the public. [5]
In one of Frida's letters while in Detroit with her husband Diego Rivera who was then commissioned to paint murals, she wrote:
Although I am very interested in all the industrial and mechanical development of the United States… [I feel] a bit of a rage against all the rich guys here, since I have seen thousands of people in the most terrible misery without anything to eat and with no place to sleep, that is what has most impressed me here, it is terrifying to see the rich having parties day and night while thousands and thousands of people are dying of hunger.

Frida Kahlo [6]
Kahlo's dislike of the US capitalist culture fueled her desire to make paintings that are useful for communist activists. One of her last paintings, titled "Marxism Will Give Health to the Sick," shows her standing and not needing her crutches, holding the "red book of Marxism," with a pair of giant hands holding her body, a white dove flying over the Earth on her left, and prominent communist figure Karl Marx on her right.
It might have symbolized her belief that she and everyone else in the world can be freed from pain and suffering through Marxism. [7]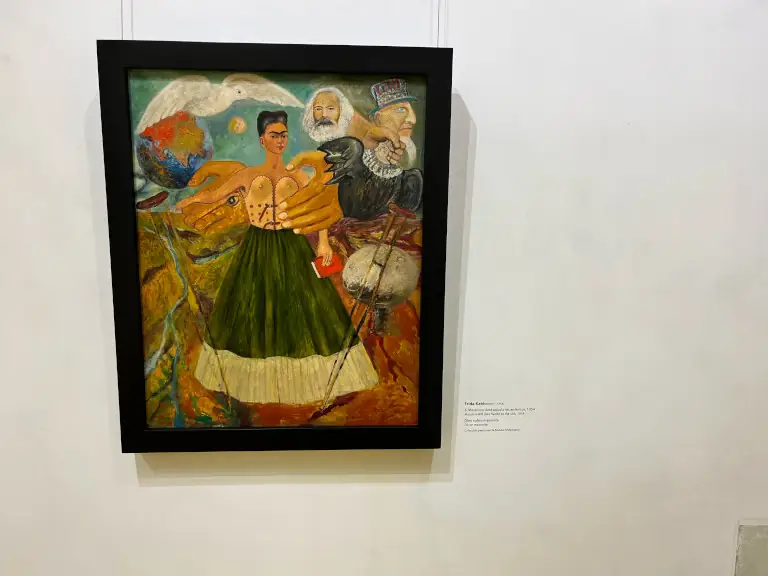 Frida Kahlo was also a friend and political ally of former Soviet leader and communist activist Leon Trotsky. She and her husband, Diego Rivera, petitioned the Mexican government to grant asylum to Trotsky. He and his wife then stayed at La Casa Azul – Kahlo and Rivera's home. Under one roof for two years, Kahlo's friendship with Trotsky deepened as they talked about art, politics, and philosophy and became good friends, even becoming lovers for a short time. 
Frida's collection of dresses housed in La Casa Azul was promoted by Vogue magazine. Want to know all about Frida's relationship with Vogue? Check out my post all about Frida and Vogue. I also have a post covering Frida's Tehuana dress fashion.
Frida Kahlo's life experiences and her Marxist beliefs shaped many of her paintings. She often used her art to show that she was against capitalism, imperialism, and colonialism. Her paintings often have bold colors, shapes, and symbols that fight for social justice and question the status quo. She also painted a lot of Mexico's native people to show how hard life was for the marginalized in a capitalist world. 
If you want to know all about Frida Kahlo's unique art style, check out my complete Frida Kahlo Style Guide.
What is the Legacy of Frida Kahlo's Activism Today?
Frida Kahlo's legacy and activism live on today, inspiring new generations of activists to speak out and take action against social injustices. Long after her death in 1954, she remains as:
an inspiration to women and feminists because she fought for women's rights and civil rights during her lifetime and because her art showcases strong, independent women
a National hero and symbol of Mexico, with her works being declared part of their natural cultural heritage and a source of pride for all Mexicans
an iconic artist that is known worldwide for her art that showcased how the disabled and pained can keep fighting and making art despite living a difficult life of hardship and struggle
an activist that voiced out her political ideals on communism and Marxism in the hopes of helping change the world to a better place and living a life fair to all people regardless of social status
Want to know how Frida Kahlo died and more about the legacy of her artwork? My article on Frida's passing covers everything. I also covered the symbolism of her final art piece in my post about Viva la Vida: Watermelons.
Frequently Asked Questions (FAQs)
Get Notified When We Publish Similar Articles
References
"How Frida Kahlo Fused Her Mexicanness with Socialism – Google Arts & Culture." Google, Google, https://artsandculture.google.com/story/how-frida-kahlo-fused-her-mexicanness-with-socialism/7wIiyOyRt3urIA.
Ankori, Gannit (2002). Imaging Her Selves: Frida Kahlo's Poetics of Identity and Fragmentation. Greenwood Press. ISBN 978-0-313-31565-7
Marnham, Patrick (1998). Dreaming with His Eyes Open: A Life of Diego Rivera. University of California Press. ISBN 978-0-520-22408-7.
Grass, Kacper. "Marxist, Nationalist, Feminist: The Art and Politics of Frida Kahlo." DailyArt Magazine, 5 July 2022, https://www.dailyartmagazine.com/the-art-and-politics-of-frida-kahlo/.
"Fruit of Life." Fruit of Life by Frida Kahlo, https://www.kahlo.org/fruit-of-life/.
Kettenmann, Andrea (2003). Kahlo. Taschen. ISBN 978-3-8228-5983-4.
"Frida Kahlo's Communist Ideas Revisited and Rejected." The Mail & Guardian, 9 Nov 2018, https://mg.co.za/article/2018-11-09-00-frida-kahlos-communist-ideas-revisited-and-rejected/.