Frida Kahlo is a famous Mexican artist and fashion icon who is known for painting self-portraits and wearing traditional dresses. Something that surprises many people is she spent much of her life wearing a back brace and other medical corsets. How did this back brace influence her art? Why did Frida Kahlo wear a brace?
Frida Kahlo wore a brace because, on September 17, 1925, her bus collided with a speedy electronic streetcar. She wore a full-body brace for the rest of her life. Frida was headed home after class. Her boyfriend suffered minor injuries, but Kahlo suffered severely.
Frida Kahlo wore multiple medical braces to support her body after the tragic accident. Read on to find out when she started painting her braces and how it influenced fashion designers for generations to come.
Understanding Frida's Unique Medical Needs
Before any of Frida Kahlo's pursuits in art, Kahlo was studying at the National Preparatory School in Mexico City to become a doctor.
When the bus accident happened, an iron handrail pierced through Kahlo's pelvis, breaking the pelvic bone, rupturing her uterus and abdomen, breaking her right leg, dislocating her shoulder, and damaging her spine forever. She had to stay in the hospital for a month to heal from her numerous serious injuries, and she was never the same again.
Want to know all about Frida's bus accident? My post on the tragic event covers every detail.
Kahlo had twenty-eight steel corsets, leather, and plaster supporting her spine. [1] She was sometimes stuck in bed at home for a few months. To help her sit and stand, she wore a full-body cast and medical corsets. In total, she underwent a total of 32 surgeries in the hopes of repairing her broken body, but she was never successful.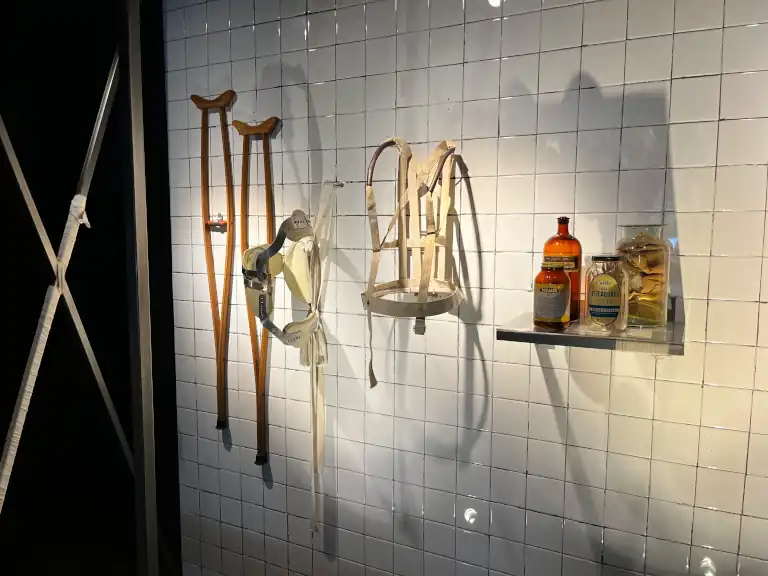 Additionally, Frida Kahlo contracted polio when she was only 6 years old. At the onset of the virus, she experienced weakness and extreme pain in her right leg, which eventually caused her right leg to be shorter than the left. [2] She walked limply and wore a long skirt to conceal her condition.
In August 1953, her ailing leg succumbed to gangrene. The doctors had to cut off her right foot, which had suffered from polio, and multiple broken bones. A year later, Frida Kahlo died.
My post about Frida's amputation and my post about how Frida died are detailed deep dives on these subjects.
How did Kahlo Adopt the Brace in Her Own Frida Fashion?
Frida Kahlo decorated and adorned her braces and corsets. They have drawings of tigers, monkeys, and even streetcars on them. Kahlo used traditional oil painting techniques, showcasing her Mexican ancestry through Aztec symbols, intricate patterns, and vibrant colors. [3]
Forever wrapped in braces and corsets, she learned to embrace her reality and create art in her daily wardrobe. She often wore traditional Mexican corsets that had colorful designs and beads stitched on them. These corsets were often made of bright colors and were designed to draw attention to her waist. She also used her corsets to show that she was a woman.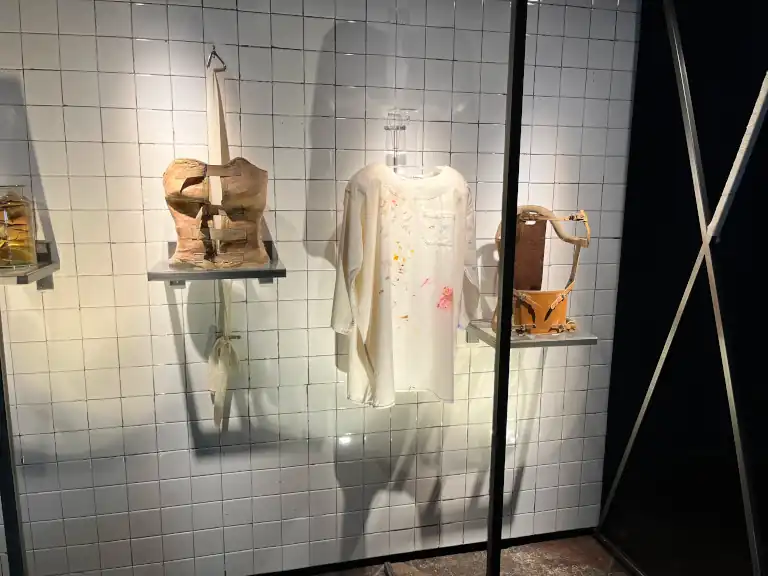 The bright colors and intricate detail of Kahlo's brace make it look like an intentional choice, rather than a sign of her victimhood. It's a reminder of her strong spirit and her refusal to let her disability define her.
In her early 20s, Kahlo was already wearing braces due to her disability. As such, she distracted people from her condition by wearing Tehuana dresses to pair with her braces. This became part of her unique style, which is still remembered and celebrated today.
Want to know all about Frida's vibrant Tehuana dresses? Check out my article all about it.
How Did Kahlo Inspire Corset Fashion?
Designers met art, culture, and fashion in the middle at the Musée d'Orsay in Paris in 2012. The show "Impressionism and Fashion" had significant works from the mid-1800s and was inspired by Parisian living. Among paintings and photographs, it featured avant-garde pieces marked by bustled, tight corset dresses.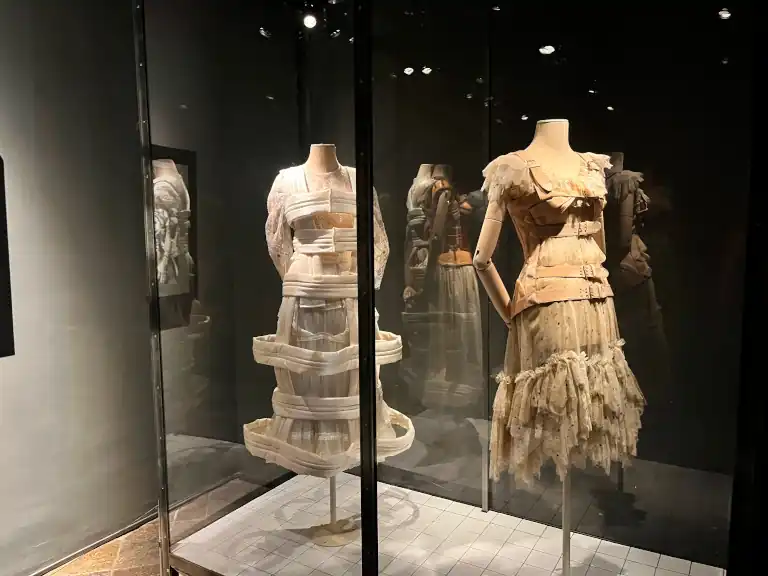 When Frida Kahlo died in 1954, all her clothes and possessions were locked in a vault as instructed by her muralist husband, Diego Rivera. It was only 15 years after Rivera's death that it was opened. In 2004, art historians discovered her belongings at Frida Kahlo's home in Coyoacan, Mexico, the Casa Azul, and compiled her treasury, including her Tehuana dresses. [4]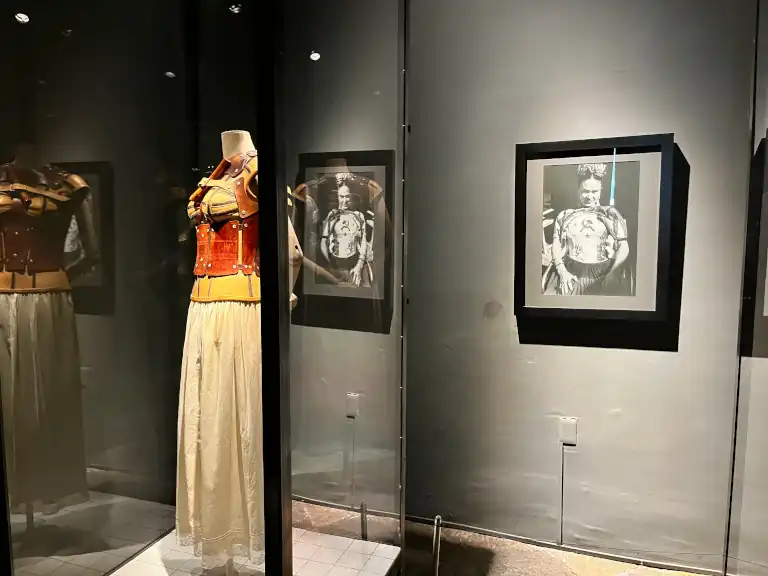 The new exhibit of Frida's dresses was promoted by the iconic fashion magazine Vogue. Frida Kahlo became the cover girl of Vogue Mexico in their November 2012 issue as a way to honor her memory and promote the then newly-opened exhibit.
My post about Frida's history and relationship with Vogue magazine tells the whole tale if you want to read more.
Additionally, Frida inspired couturier corset fashion in the following designers:
Paul Gaultier, a French couture designer who released a collection in honor of Frida Kahlo, created a salmon-colored satin dress with an attached orthopedic corset called "Icon Bust."
Dai Rees, course Director for MA Fashion Artefact at London College of Fashion, constructed a tanned leather corset bodice inspired by Kahlo's dresses.
Rei Kawakubo, a Japanese fashion designer, created a nylon corset paired with a birdcage skirt ensemble inspired by Kahlo's creations. [5]
Frequently Asked Questions (FAQs)
References