Frida Kahlo is one of the most famous women artists of the mid-20th century. Frida Kahlo's skill as an artist and her unique style has made her an art, fashion, and feminist icon, and her legacy continues to live on in pop culture. But did Frida Kahlo ever grace the cover of Vogue? Furthermore, what happened during the times she was featured in the world-famous magazine?
Frida Kahlo was on the cover of Vogue Mexico's November 2012 issue 60 years after her death. Frida was photographed by Nickolas Murray in 1939. Frida was on the inner pages of US Vogue in 1937, but the 2012 cover was the first time she made the cover.
Frida Kahlo was featured in the fashion and lifestyle magazine Vogue several times. Read on to learn more about the times Frida graced the pages of the iconic magazine, a source of inspiration for fashion lovers of all ages around the world. 
The Fake 1939 Vogue Cover Image
If you google "Frida Kahlo Vogue cover,"  the search results will give you an image of Frida Kahlo taken by Nickolas Murray in 1939 as she appeared in a certain edition of French Vogue back in 1939. [1]
Nickolas Murray was a Hungarian photographer and Frida Kahlo's lover on and off. They began a romance that lasted ten years on and off, as well as a friendship that lasted until Kahlo's death in 1954.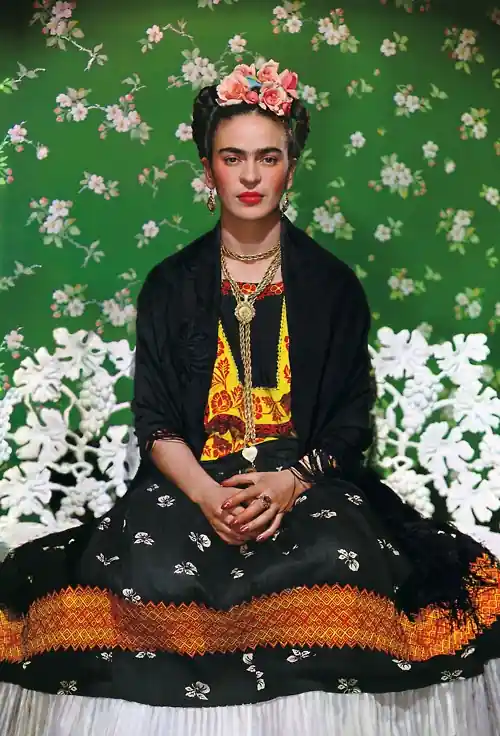 The original image titled "Frida on Bench" is very eye-catching with its green and white floral background framing Frida, who is dressed in yellow and black fabrics with red and white floral prints as well as her trademark floral headpiece and accessories ensemble. 
Someone of unknown genesis turned "Frida on Bench" into a 1939 Vogue Paris cover that became widely shared on the internet. [2] However, since it was fake, that edition was never actually officially published.
What Other Time Did Frida Kahlo Grace a Faux Version of Vogue?
The "Frida on Bench" photo by Murray was also turned into a faux mock-up of a Vogue cover used in Frida, a biographical drama film about the life of Frida Kahlo. The film, directed by Julie Taymor, went on to become included in the American Film Institute's Movies of the Year 2002 selection. [3]
Selma Hayek played the titular role and portrayed Kahlo, recreating the original "Frida on Bench" photo for one of the scenes. However, the color scheme on the movie version's image differs from the original image – the green background was also changed to blue. 
A faux version of Vogue Paris for August 1939 was shown in the movie in homage to the original photo taken by portrait photographer Nickolas Murray. Nickolas Murray has almost 90 known images of Kahlo taken between the years 1937 to 1948. 
When Was the First Time Frida Kahlo Was Featured in Vogue?
Although she didn't grace its cover, Kahlo attracted Vogue USA's attention and was featured in its inside pages in the October 1937 issue. It was for an article titled "Senoras of Mexico," an editorial feature written by Alice-Leone Moats. The article portrayed Kahlo as a strong and independent woman, who was also artistically and creatively daring. 
Want to know more about Frida's unique art style? Check out my complete Frida Kahlo style guide.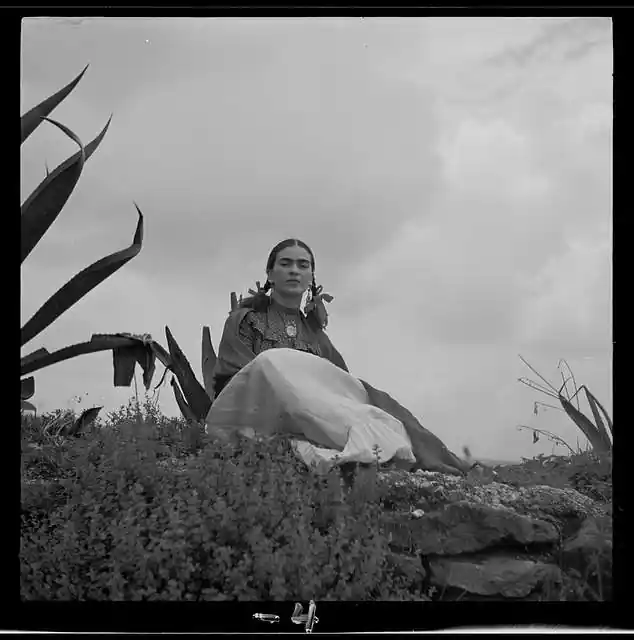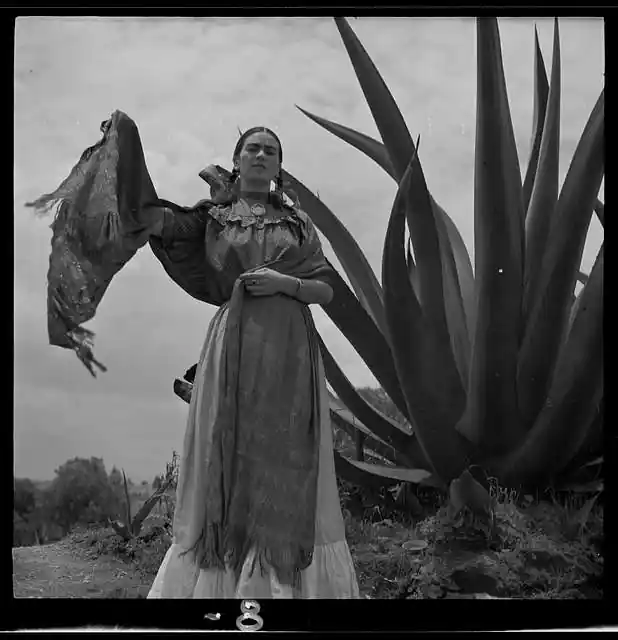 Female photographer Toni Frissell took the photos as accompaniments to the "Senoras of Mexico" article. [4] The shoot and its outtakes include:
Kahlo standing next to a large agave plant
Kahlo seated next to a large agave plant
Kahlo in different poses, some in black and some in color
These dresses helped hide Frida's injuries that caused her to need a back brace and medical corset. I wrote a post doing a deep dive on Frida's back brace and injuries.
When Did Frida Kahlo Appear on the Cover of Vogue? 
For the first time ever, Frida Kahlo appeared on the cover of Vogue in the November 2012 special collector's edition of Vogue Mexico that hit newsstands just before the opening of a new exhibit at the Frida Kahlo museum in Coyoacan. The exhibit, called 'Appearances Can Be Deceiving: The Dresses of Frida Kahlo' was aptly named after a museum curator found many of Kahlo's dresses in 2004 after gaining access to new rooms in the original home of Kahlo and Rivera. [5]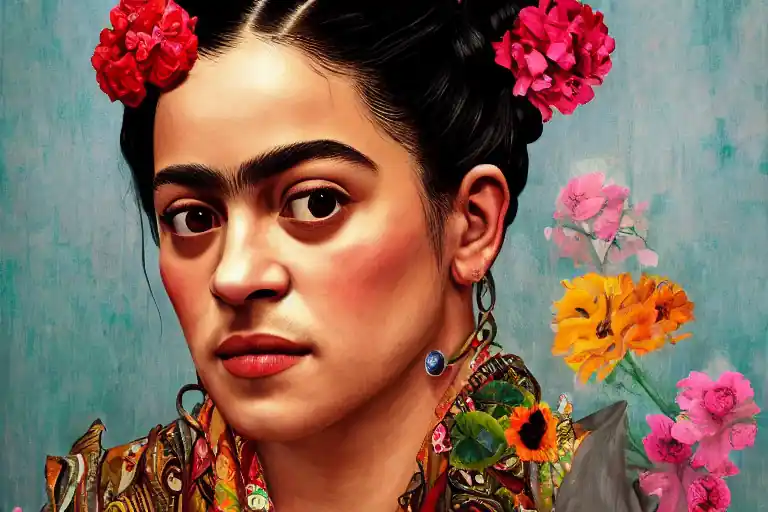 Vogue Mexico used Nickolas Murray's photo on its cover in order to help promote the then-upcoming 'Appearances Can Be Deceiving: The Dresses of Frida Kahlo' exhibit. Want to know all about Frida's Tehuana dresses? Read my post about Frida's fashion.
Although it's the first official Vogue cover of Frida, the image chosen by the magazine is familiar to many since, coincidentally, it is the one taken by Murray that was used in a faux Vogue 1939 cover mock-up that was heavily shared in the internet some years prior.
If you want to know more about Frida's injuries, check out my post about Frida's horrific bus accident or how Frida Kahlo was amputated.
Frequently Asked Questions (FAQs)
Get Notified When We Publish Similar Articles
References